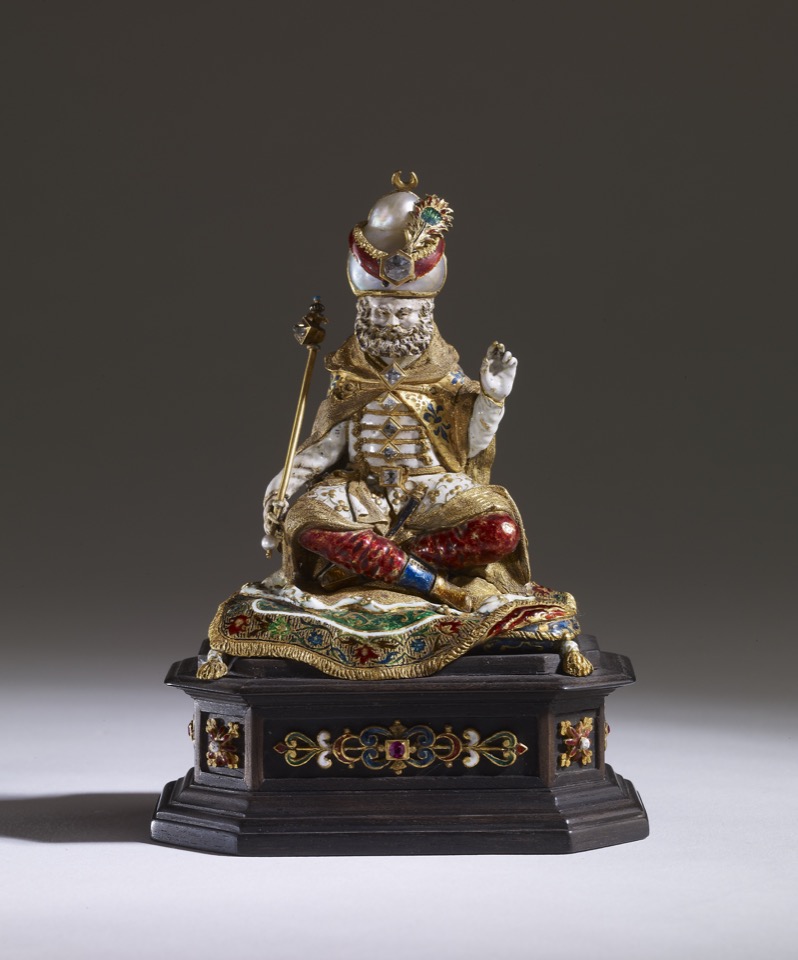 This miniature figure represents the taste for the exotic and oriental in the courts of Dresden and Vienna from around 1650.
Curator's Description
Statuette; gold; Oriental prince seated cross-legged on cushion covered with carpet; holds sceptre in right hand, left hand raised; wears high turban of baroque pearl, enamelled, surmounted by crescent and diamond aigrette; gold mantle with fleur-de-lis in blue enamel; white coat with gold frogs and five diamond buttons; crimson trousers; blue gaiters; sceptre set with square diamond; carpet enamelled; black wood stand with gold, enamel and jewels.
This object was collected and bequeathed to the British Museum by Ferdinand Anselm Rothschild.
How big is it?
6.8 cm wide, 9 cm high, 4.5 cm deep, and it weighs 124.8g
Detailed Curatorial Notes
Provenance: None is recorded.
Bibliography
Charles Hercules Read, 'The Waddesdon Bequest: Catalogue of the Works of Art bequeathed to the British Museum by Baron Ferdinand Rothschild, M.P., 1898', London, 1902, no. 190, fig.27
O.M. Dalton, 'The Waddesdon Bequest', 2nd edn (rev), British Museum, London, 1927, no.190.

References
Read 1902: Read, Charles Hercules, The Waddesdon Bequest. Catalogue of the Works of Art Bequeathed to the British Museum by Baron Ferdinand Rothschild, M.P., 1898, London, BMP, 1902
Dalton 1927: Dalton, Ormonde Maddock, The Waddesdon Bequest : jewels, plate, and other works of art bequeathed by Baron Ferdinand Rothschild., London, BMP, 1927