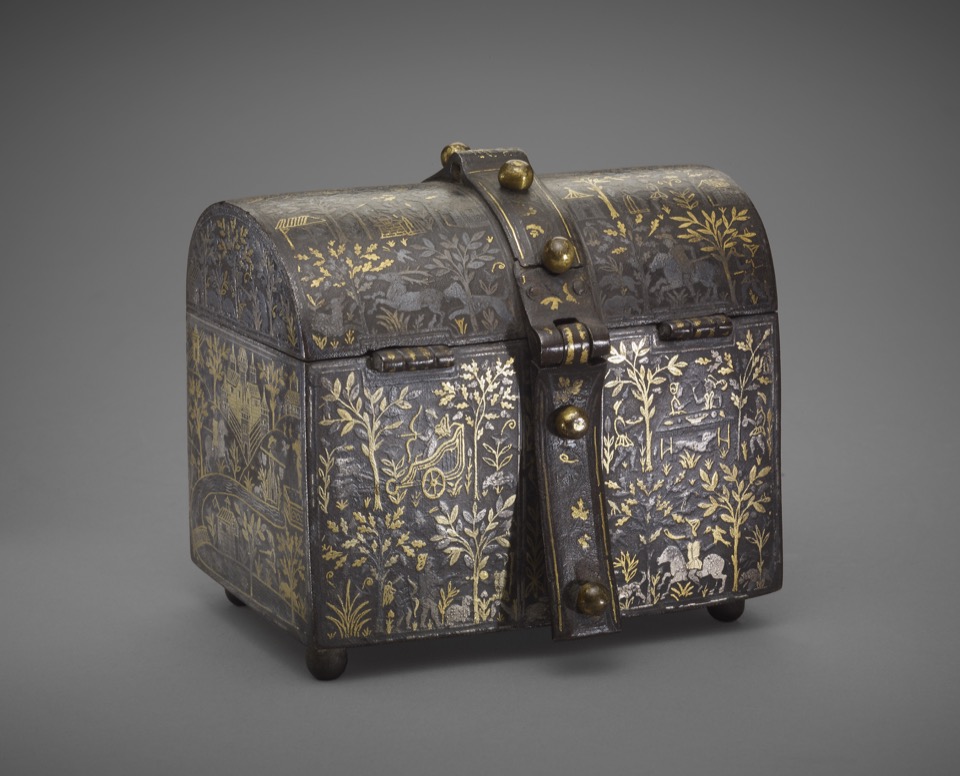 Decorated with delicate hunting scenes in a landscape. The casket was possibly made by the armourer Diego de Caias. In the 1540s he worked for Henry VIII in England. A hunting knife he made for the king is in the Royal Collection. It was referred to in Henry VIII's inventory as a woodknife 'of Dego his makinge'.
Curator's Description
Iron or steel casket with rounded top; damascened in gold and silver with scenes of hunting and conviviality, Diana and Actaeon, Orpheus charming the beasts etc.; broad band passes over the middle, one end of it forms the hasp concealing the keyhole.
This object was collected by Anselm von Rothschild and bequeathed to the British Museum by Ferdinand Anselm Rothschild.
How big is it?
8.5 cm wide, 7.9 cm high, 7.6 cm deep, and it weighs 440g
Detailed Curatorial Notes
Provenance: Baron Anselm von Rothschild, Vienna, by 1866 (cat no. 399), by inheritance to his son Baron Ferdinand Rothschild (d. 1898).
Commentary: Blair 1970 attributes this casket to Diego and compares it to one in the Poldi Pezzoli Milan. (information kindly provided by Daniel Packer). There is a woodknife by Diego de Caias which belonged to Henry VIII of England in the Royal Collection at Windsor, inv. no. 61316 (see Blair 1970 figs. 30-31) which also compares well to this casket. For another similar example see Burlington Fine Arts Club Exhibition of Steel & Ironwork, London 1900, pl. XXIV.
Bibliography
Charles Hercules Read, 'The Waddesdon Bequest: Catalogue of the Works of Art bequeathed to the British Museum by Baron Ferdinand Rothschild, M.P., 1898', London, 1902, no. 17
O.M. Dalton, 'The Waddesdon Bequest', 2nd edn (rev), British Museum, London, 1927, no.17
Claude Blair, "A Royal Swordsmith and Damascener, Diego de Caias", Metropolitan Museum of Art Journal, vol.3, 1970, fig.73, p. 196.

References
Read 1902: Read, Charles Hercules, The Waddesdon Bequest. Catalogue of the Works of Art Bequeathed to the British Museum by Baron Ferdinand Rothschild, M.P., 1898, London, BMP, 1902
Dalton 1927: Dalton, Ormonde Maddock, The Waddesdon Bequest : jewels, plate, and other works of art bequeathed by Baron Ferdinand Rothschild., London, BMP, 1927