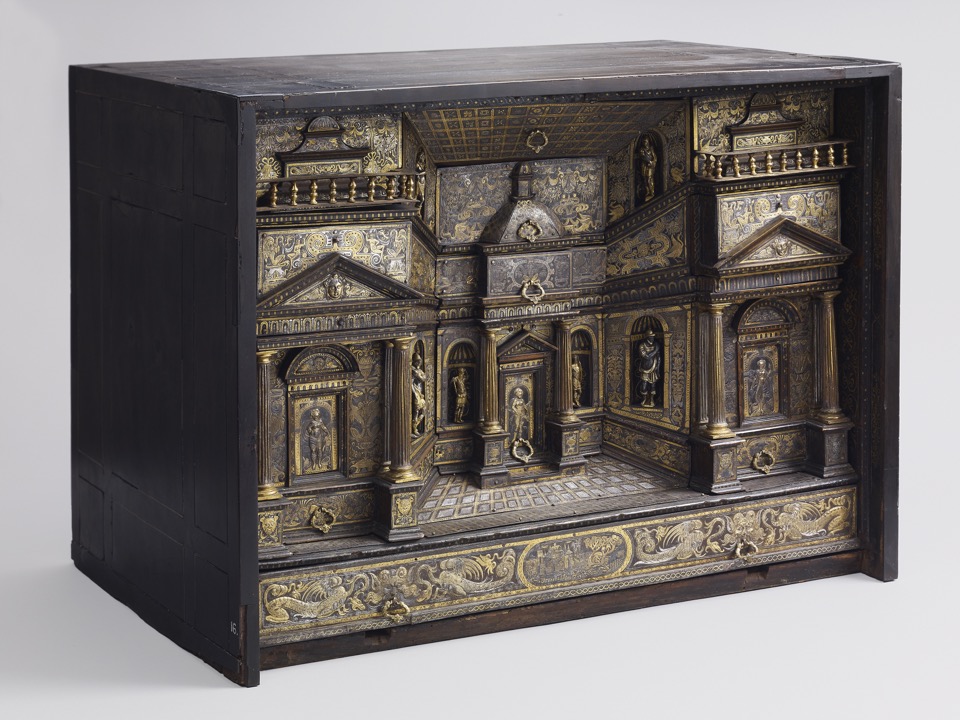 This theatrical cabinet takes the form of a stage set. Set within its architecture are drawers and miniature statues. Damascening was a speciality of Milanese armourers. Cabinets like this were important display pieces for collectors in Paris and London around 1850–1900. This one was a focal point in the New Smoking Room at Waddesdon Manor.
Curator's Description
Cabinet with eleven drawers, consisting of oblong case of black wood, panelled; open in front, which has a hinged cover; fronts of drawers, which are set back, are formed to represent a classical façade shown in perspective; main entrance standing back and flanked by two wings; each of latter has in relief a figure in a niche between fluted columns supporting a pediment, above is a gallery; on inner side of each wing are two niches, one above the other, containing figure in full relief; main entrance surmounted by dome and with recess with figure in the round on each side; whole of front of drawers covered with plates of iron, damascened with gold and silver, and chased.
This object was collected by Anselm von Rothschild and bequeathed to the British Museum by Ferdinand Anselm Rothschild.
How big is it?
56 cm wide, 41.5 cm high, 34 cm deep, and it weighs 15.3 kg
Detailed Curatorial Notes
Provenance: Probably Baron Anselm von Rothschild, Vienna, by 1866 (probably cat no. 398, but catalogue description not conclusive), probably by inheritance to his son Baron Ferdinand Rothschild (d. 1898).
Commentary: The outer box may not be original and appears to be missing a front cover. There are a number of secret drawers inside the cabinet once the other drawers have been pulled out. Comparisons are the cabinet shown in G.Lavezzari's 1870 watercolour of Basilevsky's gallery in Paris (now in the Hermitage inv. no. 14230, cabinet possibly also in the Hermitage?). The Basilevsky cabinet was acquired at the Debruge Dumenil sale in 1850. Another comparison is in the Louvre, inv. no. 6253.
Bibliography
Charles Hercules Read, 'The Waddesdon Bequest: Catalogue of the Works of Art bequeathed to the British Museum by Baron Ferdinand Rothschild, M.P., 1898', London, 1902, no. 16
O.M. Dalton, 'The Waddesdon Bequest', 2nd edn (rev), British Museum, London, 1927, no.16.

References
Read 1902: Read, Charles Hercules, The Waddesdon Bequest. Catalogue of the Works of Art Bequeathed to the British Museum by Baron Ferdinand Rothschild, M.P., 1898, London, BMP, 1902
Dalton 1927: Dalton, Ormonde Maddock, The Waddesdon Bequest : jewels, plate, and other works of art bequeathed by Baron Ferdinand Rothschild., London, BMP, 1927