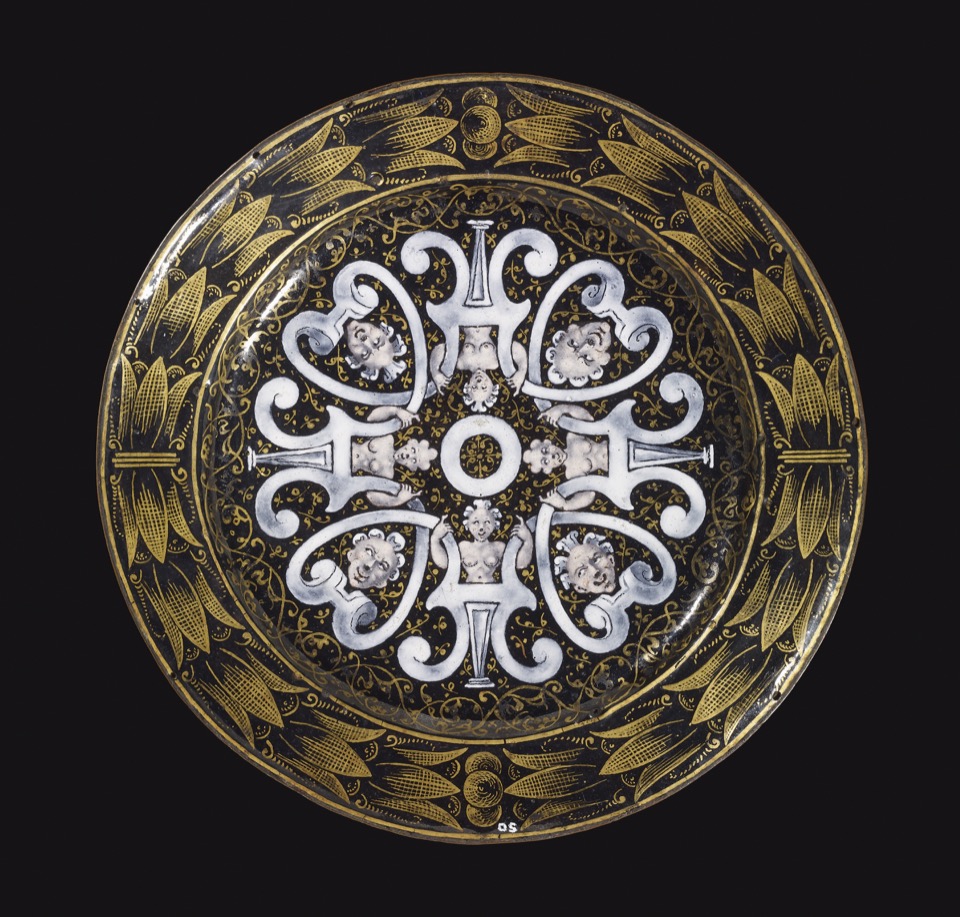 From the same set of dining wares showing Esau selling his birthright (9a) and the burial of Abraham (9b) from the biblical Book of Genesis. These scenes are after designs by Étienne Delaune and are signed by the female enameller, Susanne Court. Her work is well-represented in the Waddesdon Bequest.
Curator's Description
Painted Limoges enamel plate; copper; obverse: The death of Abraham as told in Genesis 25; swathed body of Abraham lowered into his tomb in a catacomb; painted in semi-opaque enamels over a white preparation, translucent enamels over coloured foils and white-grey grisaille with pink tinges for flesh tones; gilding; all on a black ground; inscribed.
This object was collected and bequeathed to the British Museum by Ferdinand Anselm Rothschild.
How big is it?
19.5 cm wide, 19.5 cm high, 1.2 cm deep, and it weighs 217g
Detailed Curatorial Notes
Provenance: None is recorded.
Commentary: This plate is part of a set with WB.49 as illustrations of scenes from the Book of Genesis. Another plate signed and inscribed in the same way, and presumably from the same set, is in the Louvre and illustrates the meeting of Isaac and Rebecca (inv. no. OA 4025). This plate and the plate in the Louvre have flat bases, which is unusual for plates by Suzanne de Court. The back is similar to a plate by Pierre Reymond, also in the Louvre (inv. no. MR 2428). The design is after an engraving by Bernard Salomon, Genesis 25.
Bibliography
Charles Hercules Read, 'The Waddesdon Bequest: Catalogue of the Works of Art bequeathed to the British Museum by Baron Ferdinand Rothschild, M.P., 1898', London, 1902, no. 50
O.M. Dalton, 'The Waddesdon Bequest', 2nd edn (rev), British Museum, London, 1927, no.50
Sophie Baratte, ''Les Émaux Peints de Limoges', Musée du Louvre, Paris, 2000, p.374.

References
Read 1902: Read, Charles Hercules, The Waddesdon Bequest. Catalogue of the Works of Art Bequeathed to the British Museum by Baron Ferdinand Rothschild, M.P., 1898, London, BMP, 1902
Dalton 1927: Dalton, Ormonde Maddock, The Waddesdon Bequest : jewels, plate, and other works of art bequeathed by Baron Ferdinand Rothschild., London, BMP, 1927
Scrase handlist: Scrase handlist