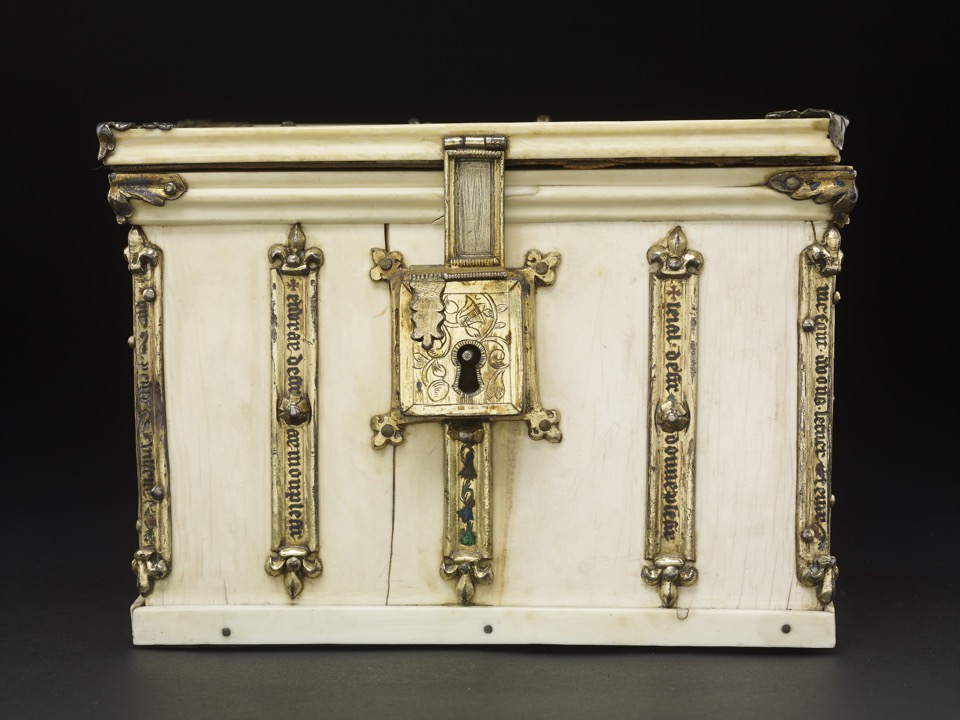 The vertical silver bands are engraved with messages of love and loyalty.
Curator's Description
Oblong casket; plain slabs of ivory with added mouldings; thirteen bands of silver gilt around sides, each terminating in fleur-de-lis and bearing inscription in black letters or line of flowers engraved and enamelled; lid with four similar bands and leaf at each corner; brass wire handle; projecting silver-gilt lock engraved with flowers; key separate (inside).
This object was previously owned by d'Albanie, and collected and bequeathed to the British Museum by Ferdinand Anselm Rothschild.
How big is it?
15.5 cm wide, 11.1 cm high, 12 cm deep, and it weighs 795g
Detailed Curatorial Notes
Provenance: According to Read 1902 the casket comes from the collection of Count Stuart d'Albanie but there is no reference given for this.
Commentary: The closest comparison is a reliquary casket, French c1400, now in the Rijksmuseum (inv. no. BK-NM-625) which was used in Utrecht for St Willibrord relics until the Reformation,which has a similar shape in ivory and similar silver strips with finials and lock. See
A.de Kruijf, 'Preserved Miraculously: Relics in the Old Catholic St Gertrude's Cathedral in Utrecht, Netherlands', in 'Matter of Faith: An Interdisciplinary Study of Relics and Relic Veneration in the Medieval Period', eds. Robinson, De Beer and Harnden, British Museum, London 2015, pp. 179-180, fig.3.
Bibliography
Charles Hercules Read, 'The Waddesdon Bequest: Catalogue of the Works of Art bequeathed to the British Museum by Baron Ferdinand Rothschild, M.P., 1898', London, 1902, no. 217, fig.32
O.M. Dalton, 'The Waddesdon Bequest', 2nd edn (rev), British Museum, London, 1927, no.217.

References
Read 1902: Read, Charles Hercules, The Waddesdon Bequest. Catalogue of the Works of Art Bequeathed to the British Museum by Baron Ferdinand Rothschild, M.P., 1898, London, BMP, 1902
Dalton 1927: Dalton, Ormonde Maddock, The Waddesdon Bequest : jewels, plate, and other works of art bequeathed by Baron Ferdinand Rothschild., London, BMP, 1927