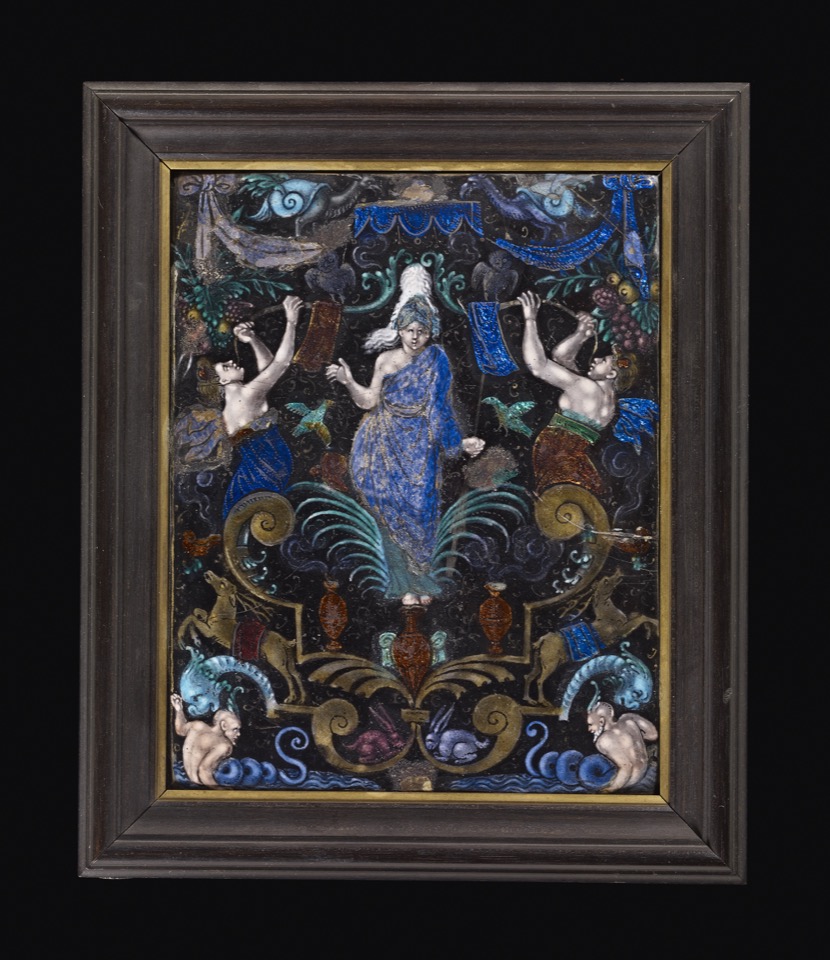 'I. C.' may be the maker Jean de Court, or Jean Court, or the Court family workshop.
Curator's Description
Painted Limoges enamel plaque; copper, rectangular; set in a modern wooden frame; The figure of Minerva, wearing a plumed helmet and her aegis; flanked by two female supporters, two owls, two urns, two grotesques as snails, two hares, two stags and two sea-satyrs; signed; painted in grisaille, semi-opaque enamel on a white preparation and translucent enamels over coloured foils; grisaille painted with flesh tones of grey-pink, all on a black ground, gilding; counter enamel opaque colourless flux; inscribed.
This object was previously owned by Louis Fould, collected by Anselm von Rothschild and bequeathed to the British Museum by Ferdinand Anselm Rothschild.
How big is it?
12.6 cm wide, 15 cm high, 7 cm deep, and it weighs 195g
Detailed Curatorial Notes
Provenance: Baron Anselm von Rothschild, Vienna, by 1866 (cat no. 13), by inheritance to his son Baron Ferdinand Rothschild (d. 1898). Formerly in the collection of Fould (no. 1039) - see Verdier 1967 in bibliography.
Commentary: The scene is after an engraving by Etienne Delaune. WB.38 was put together with its companion piece, signed I.D.C., showing Venus and Cupid (WB.37) when it was in the Fould collection. The enameller signing I.C., as on this piece, and the enameller signing I.D.C., as on WB.37, appear to be closely associated but to have distinctive styles. They might have been working in the same workshop in Limoges. See WB.37 for commentary.
Bibliography
A. Chabouillet, 'Description des antiquités et objets d'art composant le cabinet de M. Louis Fould', Paris, 1861, no. 1039
Charles Hercules Read, 'The Waddesdon Bequest: Catalogue of the Works of Art bequeathed to the British Museum by Baron Ferdinand Rothschild, M.P., 1898', London, 1902, no. 38
O.M. Dalton, 'The Waddesdon Bequest', 2nd edn (rev), British Museum, London, 1927, no.38
Philippe Verdier, 'Painted Enamels of the Renaissance', Walters Art Gallery, Baltimore 1967, p.332.

References
Read 1902: Read, Charles Hercules, The Waddesdon Bequest. Catalogue of the Works of Art Bequeathed to the British Museum by Baron Ferdinand Rothschild, M.P., 1898, London, BMP, 1902
Dalton 1927: Dalton, Ormonde Maddock, The Waddesdon Bequest : jewels, plate, and other works of art bequeathed by Baron Ferdinand Rothschild., London, BMP, 1927
Scrase handlist: Scrase handlist