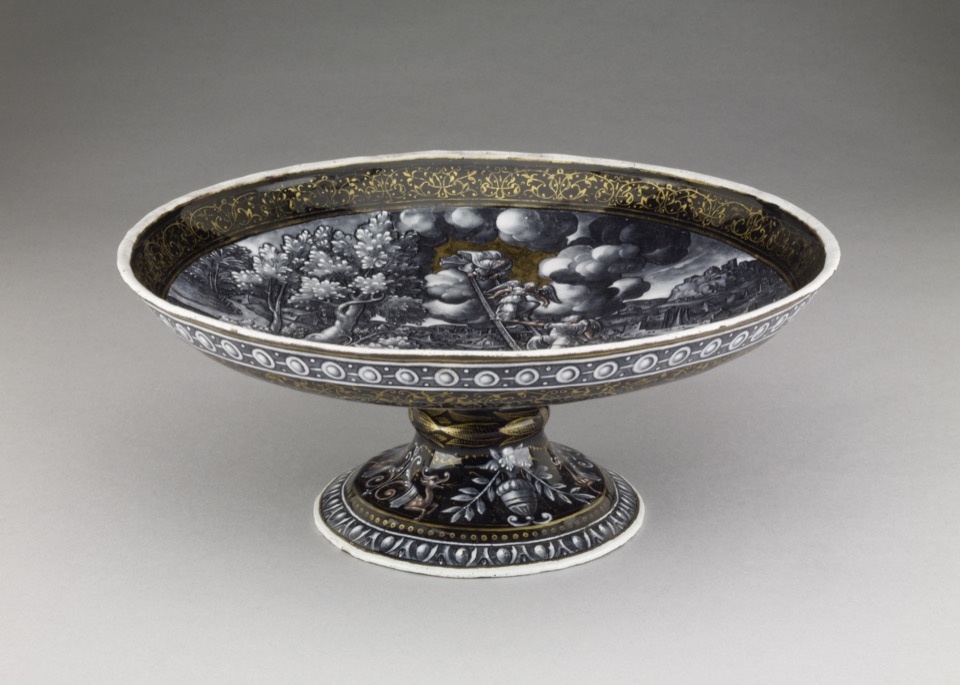 Jacob's vision of Heaven, from the biblical Book of Genesis.
Curator's Description
Painted Limoges enamel tazza; copper; wide shallow bowl on a short foot with an annular knop; obverse: Jacob's dream; Jacob sleeping beneath a tree; signed; ladder going to Heaven where it is held by God the Father amidst the clouds; angels walking up and down the ladder; painted in grisaille with flesh tones in salmon pink on a black ground, with details produced by enlevage and decorations in gilding; inscribed.
This object was collected by Anselm von Rothschild and bequeathed to the British Museum by Ferdinand Anselm Rothschild.
How big is it?
25.2 cm wide, 10.3 cm high, 25.2 cm deep, and it weighs 724g
Detailed Curatorial Notes
Provenance: Baron Anselm von Rothschild, Vienna, by 1866 (cat no. 5), by inheritance to his son Baron Ferdinand Rothschild (d. 1898).
Bibliography
Charles Hercules Read, 'The Waddesdon Bequest: Catalogue of the Works of Art bequeathed to the British Museum by Baron Ferdinand Rothschild, M.P., 1898', London, 1902, no. 36
O.M. Dalton, 'The Waddesdon Bequest', 2nd edn (rev), British Museum, London, 1927, no.36.

References
Read 1902: Read, Charles Hercules, The Waddesdon Bequest. Catalogue of the Works of Art Bequeathed to the British Museum by Baron Ferdinand Rothschild, M.P., 1898, London, BMP, 1902
Dalton 1927: Dalton, Ormonde Maddock, The Waddesdon Bequest : jewels, plate, and other works of art bequeathed by Baron Ferdinand Rothschild., London, BMP, 1927
Scrase handlist: Scrase handlist