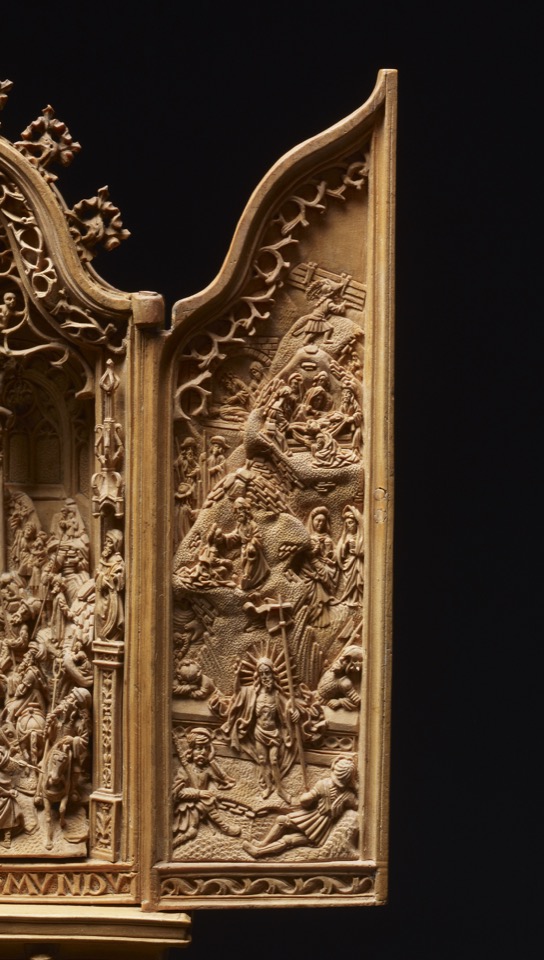 The altar is carved with scenes from the life and Passion of Christ. Doors open to reveal the Crucifixion, with detailed figures set within a vaulted interior. The inside of the doors show Christ Carrying the Cross on the left, and the Resurrection on the right. Beneath is the Last Supper. The disciples sit with Jesus behind a table, with Judas, who will betray Jesus, isolated at the front. Beneath is a small label dated 1511. Flanking the scene are playful cherubs and lions holding shields, which would originally have identified the patron for whom this sculpture was made.
Curator's Description
Miniature altar-piece; boxwood; upper section is triptych with ogee arches, Crucifixion in centre in relief, on vaulted background, numerous figures in foreground; left wing: Bearing of the Cross with Sacrifice of Isaac in distance; right: Resurrection, with Entombment and other scenes in background; second stage is smaller triptych carved in low relief with Agony in the Garden and, on the leaves, the Betrayal; this rests on semi-circular arcade with Last Supper in full relief; each side with seated lion grasping a shield; rectangular base with wrestling children filling the angles; whole rests on two recumbent lions chained to posts; between them is shield with helmet, mantlings and crest, eagle displayed; leather case with gilt borders; inscribed.
This object was collected by Anselm von Rothschild and bequeathed to the British Museum by Ferdinand Anselm Rothschild.
How big is it?
14 cm wide, 25.1 cm high, 9 cm deep, and it weighs 356g
Detailed Curatorial Notes
Provenance: Baron Anselm von Rothschild, Vienna, by 1866 (cat no. 28).
Commentary from Tait 1981: 'The miniature altar-piece, engraved with the date 1511, is probably one of the most splendid examples to have survived and certainly is most unusual for not being wholly Gothic in every detail - the use of two pairs of wrestling 'putti' on the base and of pilaster-type decoration on the side panels of the base, for example, are rare instances in the work of this master of an awareness of the influence of the Renaissance.'
The altar-piece is unusual for its Renaissance and Italianate rather than Gothic details, which can be compared with large altarpieces of a later date. Two tiny compartments in the back, now empty, were probably intended for or once housed relics.
The best comparison is a boxwood altar in the Louvre bequeathed by Baron Adolphe Rothschild in 1902, which retains its own leather carrying case (inv. no. OA 5612),
Bibliography
Charles Hercules Read, 'The Waddesdon Bequest: Catalogue of the Works of Art bequeathed to the British Museum by Baron Ferdinand Rothschild, M.P., 1898', London, 1902, no. 232, pl.XLV
O.M. Dalton, 'The Waddesdon Bequest', 2nd edn (rev), British Museum, London, 1927, no.232
Richard Marks, 'Two Early 16th Century Boxwood Carvings Associated with the Glymes Family of Bergen op Zoom' in Oud Holland, Jaarg. 91, No. 3, 1977, pp.141-142, pl.6
H. Tait, 'The Waddesdon Bequest', BM London 1981, p. 28, fig. 17
William D. Wixon, 'A Brabantine Boxwood Triptych' in Bulletin of the Detroit Institute of Arts, Vol. 61, No. 1/2, Summer 1983, p.43
John Mack, 'The Art of Small Things', British Museum, London, 2007, p.79 & illus.
John Lowden and John Cherry, 'Medieval ivories and works of art : the Thomson Collection at the Art Gallery of Ontario', Thomson Collection, Toronto, 2008, p.142
Dora Thornton, 'A Rothschild Renaissance: Treasures from the Waddesdon Bequest', British Museum, London, 2015, pp.178-185.

References
Read 1902: Read, Charles Hercules, The Waddesdon Bequest. Catalogue of the Works of Art Bequeathed to the British Museum by Baron Ferdinand Rothschild, M.P., 1898, London, BMP, 1902
Dalton 1927: Dalton, Ormonde Maddock, The Waddesdon Bequest : jewels, plate, and other works of art bequeathed by Baron Ferdinand Rothschild., London, BMP, 1927