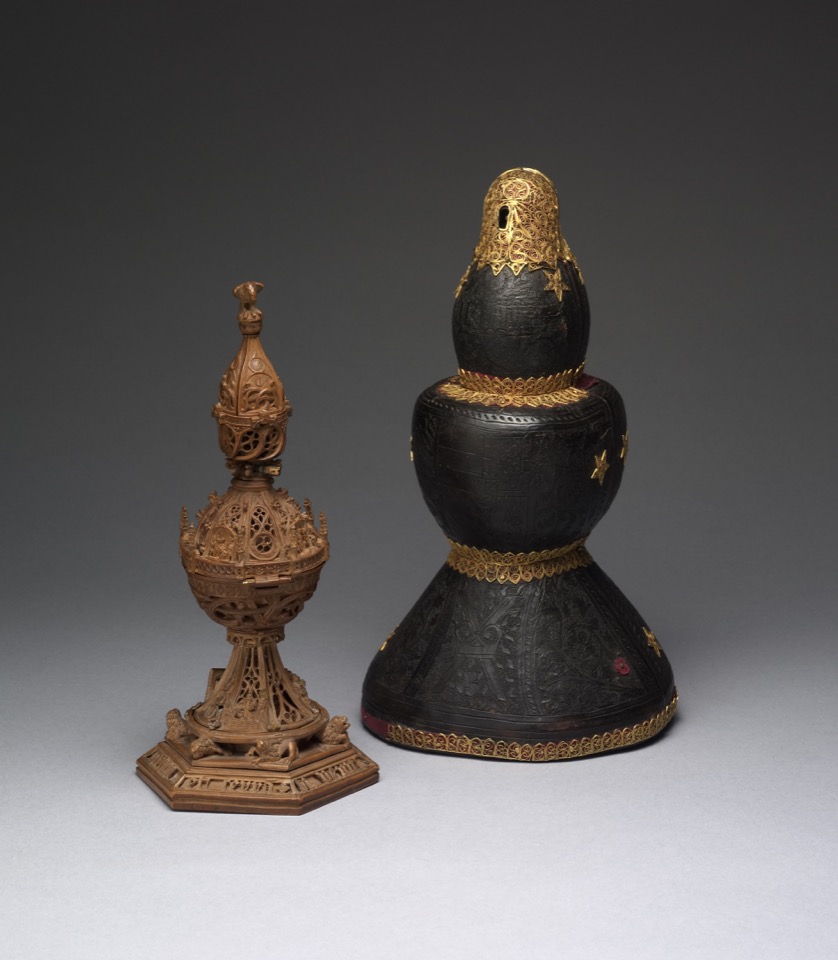 The tabernacle is carved with scenes from the life of Jesus. It was designed as an interactive aid to prayer, which comes apart and opens like a flower to reveal more and more areas of minute carving. Inside the pinnacle, the Virgin and Child can be raised by a ratchet. The central element is a prayer nut. The tabernacle may have been owned by the Holy Roman Emperor, Charles V (reigned 1519–53) whose arms appear on the case.
Curator's Description
Miniature tabernacle; carved in openwork boxwood with scenes from Life and Passion of Christ; oviform body surmounted by long pear-shaped pinnacle, resting on hexagonal stem which rests, with intervention of six crouching lions, on base of same shape; pinnacle surmounted by Pelican in her piety, which is removable, thus releasing four petals into which the upper part is divided; these are depressed by a ratchet while figure of Virgin and Child rise in centre; inside are represented, in relief, Annunciation, Nativity, Circumcision and Adoration of the Magi; foliage in relief outside; body divided horizontally into two parts and opens on hinge; lower half contains Resurrection, Maries at the Sepulchre, Harrowing of Hell, etc; inscribed. all in full relief; upper half protected by two doors; within is Crucifixion with numerous figures of horsemen and others; inside doors are subjects in relief, Bearing of the Cross, Deposition; outside divided into eight arches filled with tracery and crocketed on the divisions; bottom of every other arch is niche with subject from the Passion: Mocking of Christ, Christ before Pilate, before Herod, Flagellation; gallery round middle divided by eight pinnacles; lower part covered with foliage, much undercut; hexagonal stem with three scenes in full relief: Entry into Jerusalem, Agony in the Garden and Betrayal; above are six crouching lions supporting a ring into which the stem fits; fitting into stem is group of three scenes under canopy: washing of the disciple's feet, scourging of the money-lenders in the Temple and the Last Supper; original case of cuir bouilli mounted in gold filigree with panels of floral scrolls, badges and coats of arms of Charles V as King and Emperor; inscribed.
This object was previously owned by Carton Bligh, and collected and bequeathed to the British Museum by Ferdinand Anselm Rothschild.
How big is it?
14.7 cm wide, 22.2 cm high, 13 cm deep, and it weighs 155.5g
Detailed Curatorial Notes
Provenance: Unknown other than that the tabernacle was exhibited in 1836 (see bibliography). It is not known how or when it entered the collection of Baron Ferdinand Rothschild.
Commentary from Tait 1981:-
'The object is so ingeniously constructed that, like a flower, it opens, and section by section, reveals more and yet more areas of minute carving depicting scenes from the life of Christ. The process commences when the finial, a pelican in her piety, is lifted off and the four 'petals' below open outwards to reveal, carved on their inner faces, scenes of events surrounding Christ's birth and in the centre, carved fully in the round, the figure of the Virgin and Child, which simultaneously rises as the wooden ratchet (at the base of the pinnacle) is slowly turned. Similarly, the central "knop" of the tabernacle opens up like a rosary bead and the stem, with its fine tracery, is designed to be taken apart. An object of such exquisite workmanship and inventiveness would, undoubtedly, have been the cherished object of piety in some private oratory of a royal household. Although its outer leather case has the armorial bearings of the Emperor Charles V, who retired to a monastery in Spain and died there in 1558, and the object was stated (as early as 1834) to have been brought to England from Spain during the Peninsular War (1808-14), this distinguished provenance has yet to be established beyond doubt.'
[The early 16th-century case was repaired and decorated with filigree c1670-1730. The bottom section of the base is dated 1562 and is slightly later than the rest of the object, but the tabernacle fits into its case with the additional base which would make it too late for the case to be made in Charles V's lifetime, but may indicate that it once belonged to him. Read 1902 shows the object with a further modern base, now removed.
Williamson 2000 (Hazel Williamson, 'Guide to the collections of the National Museums of Scotland', National Museums of Scotland, Edinburgh, 2000) notes that house altars of different sizes and formats were made as part of the late 15th century shift in devotion towards the Passion and the Virgin's suffering, using objects like this as devotional and visual aids. The inscription 'O Crux Ave' is taken from a Latin hymn in praise of the Cross, The Vexilla Regis, (sung as part of the Good Friday liturgy) also appears on a boxwood triptych in the V&A of c.1500-1520 (inv. no. 264-1874).
The closest comparison to the tabernacle is a boxwood monstrance, also with case, in the Residenz in Munich.]
Bibliography
Samuel Rush Meyrick & Henry Shaw, 'Specimens of Ancient Furniture', London, 1836, p.57, pl. LXXII-LXXIII
Charles Hercules Read, 'The Waddesdon Bequest: Catalogue of the Works of Art bequeathed to the British Museum by Baron Ferdinand Rothschild, M.P., 1898', London, 1902, no. 233, fig. 37 and pls.XLVI., XLVII
Alfred Maskell, Wood Sculpture, London 1911, pp. 187-8 and plate XXX
O.M. Dalton, 'The Waddesdon Bequest', 2nd edn (rev), British Museum, London, 1927, no.233
H. Tait, 'The Waddesdon Bequest', BM London, 1981, pp. 26-31, figs. 14-16
Susan Jean Romanelli, South Netherlandish boxwood devotional sculpture 1475-1530, Doctoral Dissertation, Columbia University, New York 1992, pp. 145-7 a pp.199-203, cat.1
Heinz Schilling, 'Charles V and Religion, The Struggle for the Integrity and Unity of Christendom', in 'Charles V 1500-1558 and his Time', ed. Hugo Soly, Antwerp. 1999, pp.285-263
Paul Williamson, Netherlandish Sculpture 1450-1550, London 2002, cat.49
Evelin Wetter, ''Zwei spätmittelalterliche Betnüsse aus den südlichen Niederlanden', Riggisberg, 2011, pp. 69-70
Dora Thornton, 'A Rothschild Renaissance: Treasures from the Waddesdon Bequest', British Museum, London, 2015, pp.186-195.

References
Read 1902: Read, Charles Hercules, The Waddesdon Bequest. Catalogue of the Works of Art Bequeathed to the British Museum by Baron Ferdinand Rothschild, M.P., 1898, London, BMP, 1902
Dalton 1927: Dalton, Ormonde Maddock, The Waddesdon Bequest : jewels, plate, and other works of art bequeathed by Baron Ferdinand Rothschild., London, BMP, 1927