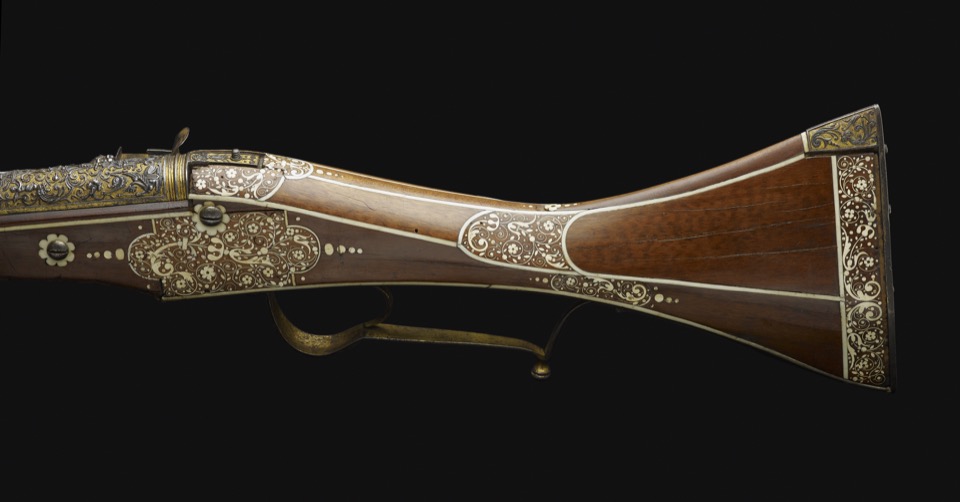 Later altered for Frédéric Spitzer.
Curator's Description
Wheel-lock sporting gun or musket; long barrel, gilded and chased with delicately executed designs incorpating Jupiter, Mercury, etc., among scrolls and grotesques; one band at muzzle, one in middle, and a third at the breech; lock plate chased with triumph of Neptune; butt end covered with plate chased with scrolls; stock with walnut veneer inlaid in detached panels with scrolls in ivory; ramrod tip a later replacement; some small pieces of inlay missing.
This object was previously owned by Frédéric Spitzer, and collected and bequeathed to the British Museum by Ferdinand Anselm Rothschild.
How big is it?
1.7m wide, 19 cm high, 8 cm deep, and it weighs 5.1 kg
Detailed Curatorial Notes
Provenance: Purchased by Baron Ferdinand de Rothschild at the sale of the collection of Frédéric Spitzer in Paris in 1893.
Commentary: This gun is so close to one in the Wallace Collection, London (previously in the Pourtalès collection, subsequently owned by Napoléon III and then the Comte de Niewerkerke) that it seems highly likely they were made in the same workshop. The Wallace collection gun is signed HB in the staghorn on top of the stock for the workshop of Hieromymous Borstorffer, while the barrel is attributed to the workshop of Daniel Sadeler, Munich.
The illustration of this gun in the Spitzer catalogue shows that the ramrod tip is damaged; the present ivory tip is therefore a later replacement. On the underside at the throat of the ramrod slot, there should be a small piece of engraved bone which is missing. (information kindly supplied by David Edge and Jamie Hood, July 2012).
Another wheellock rifle by Sadeler and Borstorffer is in the Metropolitan Museum of Art, inv. no. 14.25.1397.
From Tait 1981:-
'Daniel [Sadeler], who lived until about 1633, when he appears to have died of the plague, is represented in the Bequest by a wheel-lock gun, which ranks beyond doubt as one of the finest firearms in existence. It was probably made about 1620, when an almost identical gun, now preserved in the Wallace Collection, London, was also produced. The barrels of both guns are decorated with three panels of finely chiselled ornament on blued steel against a gilded background; the subjects, mainly figures from classical mythology, are surrounded by floral scroll-work, grotesques and masks. Daniel Sadeler's source for these panels is undoubtedly Étienne Delaune; he has either copied directly from the engravings or been content to introduce a few minor modifications. The lock-plate is chased with a Triumph of Neptune, slight variants of which he used on a number of pieces. The stock, with its butt of modified fish-tail form, has a restrained and sophisticated elegant appearance. Whereas snake-wood has been used to stock the gun in the Wallace Collection, which is signed by the stock-maker, Hieronymous Borstorffer, the gun in the Bequest is stocked in walnut. Both stocks are undoubtedly made by the same hand, and in each case the decoration of inlaid ivory comprises no more than a few strong lines following the contours of the sock and some extremely intricate scroll-work. Hieronymous Borstorffer seems to have been working in Munich from about 1595 until his death in 1637 and to have stocked many of the guns made by the Sadelers'.
Bibliography
'Catalogue . . . de la . . . Collection Spitzer', Paris, 17 April - 16 June 1893, lot 324, fig. 53, described as 'French XVIth century'
Charles Hercules Read, 'The Waddesdon Bequest: Catalogue of the Works of Art bequeathed to the British Museum by Baron Ferdinand Rothschild, M.P., 1898', London, 1902, no. 8
F.H. Cripps-Day, 'A record of Armour Sales 1881- 1924', London 1925, p. 95 (text) and p. 93 (ill.), sold for 26,000 francs (£1,040)
O.M. Dalton, 'The Waddesdon Bequest', 2nd edn (rev), British Museum, London, 1927, no.7
J.F. Hayward, 'Art of the gunmaker',I , Barrie & Rockcliff, 1962, p.172
J. Mann, 'Wallace Collection Catalogues: European Arms and Armour', Wallace Collection London 1962, p.507
H. Tait, 'The Waddesdon Bequest', BM London 1981, pp.87-88, figs. 63-64 and col. pl. XIIA
J. Mann, 'Wallace Collection Catalogues: European Arms and Armour Supplement', Wallace Collection London 1986, p.213.

References
Read 1902: Read, Charles Hercules, The Waddesdon Bequest. Catalogue of the Works of Art Bequeathed to the British Museum by Baron Ferdinand Rothschild, M.P., 1898, London, BMP, 1902
Dalton 1927: Dalton, Ormonde Maddock, The Waddesdon Bequest : jewels, plate, and other works of art bequeathed by Baron Ferdinand Rothschild., London, BMP, 1927