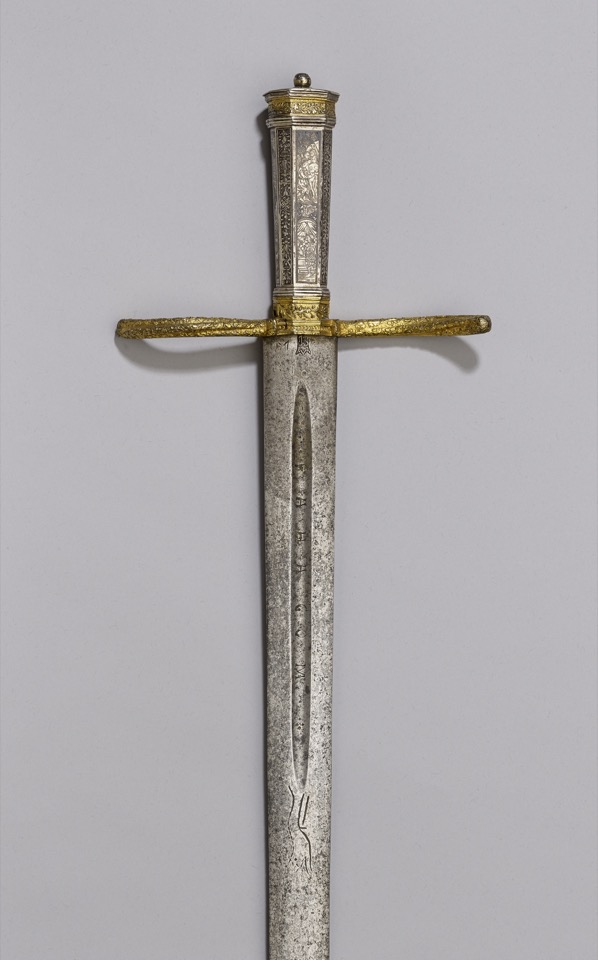 Made up for Frédéric Spitzer with a new silver pommel and grip inlaid with niello.
Curator's Description
Sword, highly composite, the steel blade nearly flat with a short fuller near the hilt and stamped on either side with two different blademaker's marks, a running wolf, and the inscription SAHAGOM. The grip silver, octagonal in section, ornamented alternately with scrolls in relief and nielloed designs of: Tarquin and Lucretia, Hero and Leander, Judgement of Paris, etc. The arms of the silver-gilt, S-curved cross are spirally twisted and chased with leaves on the front side only. The cross terminals have been engraved to resemble small quatrefoils. The cross includes an integral collar, decorated with a foliate scroll; the pommel area above the grip (but made in one with it) has been decorated with a band of gilding, the area also decorated with foliage in an attempt to match it to the cross collar.
This object was collected and bequeathed to the British Museum by Ferdinand Anselm Rothschild.
How big is it?
18 cm wide, 1m high, 3 cm deep
Detailed Curatorial Notes
Provenance: None is recorded.
Commentary: Comments made by Tobias Capwell, Wallace Collection, on 9th October 2012: This sword has a standard German military blade of the 16th to 17th century with a running wolf mark of the Passau bladesmiths' guild on each side. The S-curved cross with its integral collar may date from the late 15th-century or early 16th-century, perhaps made in Florence or Ferrara. It has been married to a 19th century silver grip and pommel partially nielloed and gilt. At the base of the hilt is a crude tang button, through which the tang of the blade passes. There is a sword in the Wallace Collection with a similar inscription 'SAHAGVN' (A669), which Capwell suggested could be an acronym for a phrase.
Bibliography
Charles Hercules Read, 'The Waddesdon Bequest: Catalogue of the Works of Art bequeathed to the British Museum by Baron Ferdinand Rothschild, M.P., 1898', London, 1902, no. 11
O.M. Dalton, 'The Waddesdon Bequest', 2nd edn (rev), British Museum, London, 1927, no.11.

For an illustration of the type of sword to which a guard like this would normally belong, see example in the Wallace Collection (A499) illustrated in Capwell, Tobias, The Noble Art of the Sword, Fashion and Fencing in Renaissance Europe 1520-1630, London 2012 pp. 23

See also Capwell, Tobias 'A Dress Sword of the Italian Renaissance', Apollo, February 2013.

References
Read 1902: Read, Charles Hercules, The Waddesdon Bequest. Catalogue of the Works of Art Bequeathed to the British Museum by Baron Ferdinand Rothschild, M.P., 1898, London, BMP, 1902
Dalton 1927: Dalton, Ormonde Maddock, The Waddesdon Bequest : jewels, plate, and other works of art bequeathed by Baron Ferdinand Rothschild., London, BMP, 1927