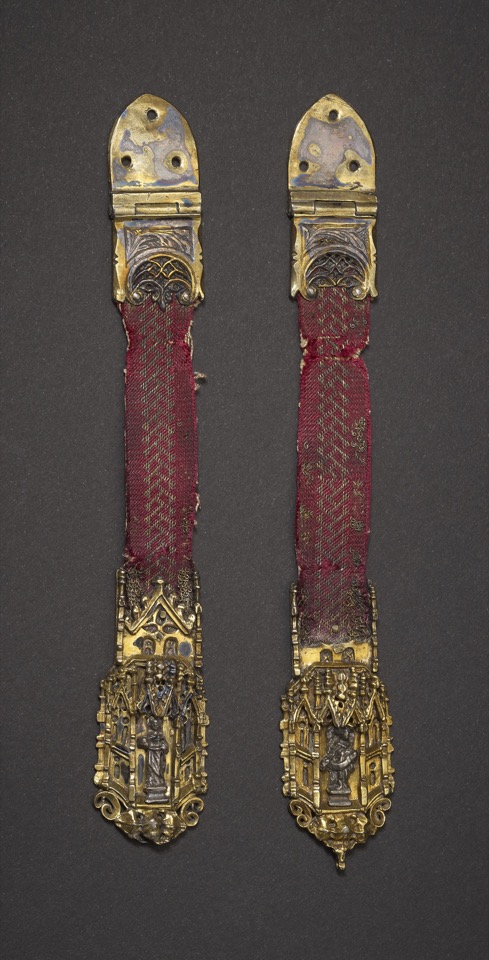 Curator's Description
Pair of book-clasps, silver-gilt mounts, originally to bind illuminated manuscript. Red silk straps decorated with geometric interlace pattern in gold thread. At one end of each clasp a partially cross-hatched and engraved hinged mount tapers to a point and is pierced by three holes in a triangular formation. Clasp a) decorated with a figure, consistent with contemporary representations of the Angel of the Annunciation, standing within an architectural Gothic canopy. The figure holds a scroll and appears to have wings. Clasp b) decorated with a figure of the Virgin Mary (?) standing within an architectural Gothic canopy. The figure appears to be holding a book.
This object was previously owned by Hollingworth Magniac, and collected and bequeathed to the British Museum by Ferdinand Anselm Rothschild.
How big is it?
2.5 cm wide, 17.1 cm high, 0.6 cm deep, and it weighs 64g
Detailed Curatorial Notes
Text from Tait 1988:-
Origin: French or perhaps Flemish; late 15th or early 16th century; no marks.
Marks: None.
Provenance: The Colworth Collection, largely formed by Mr Hollingworth Magniac (1827-91); sold by Christie's
on 11 July 1892, lot 803, and subsequently acquired by Baron Ferdinand Rothschild.
Commentary: In a note written and published by John Charles Robinson in 1861 - and republished in 1892 in the Christie's Sale Catalogue - the history of this pair is recorded as follows: "These clasps were, until a short time before their present possessor obtained them, attached to a splendid manuscript, which was unfortunately broken up, for the sake of the illuminations, by the dealer into whose hands it had fallen."
Unfortunately, no note of the contents of that illuminated manuscript or its history and origin has been preserved, but evidently Sir Charles Robinson had reason to attribute this pair of clasps to a French workshop, for they were emphatically described in 1861 as "French Gothic work, first half of 15th century".
Curiously, few such late Gothic book-clasps have been published, though a highly realistic painting by Albrecht Dürer (1471-1528) of St Anthony holding a massive open book shows exactly how this type of book-clasp functioned. Dürer's painting is part of the famous Dresden Altarpiece, finished about 1496, which was moved in 1687 from the Schlosskircke at Wittenberg to the Electoral Kunstkammer in Dresden and since 1835 has been hung in the Dresden Picture Gallery (H. Kohlhaussen, 'Nürnberger Goldschmiedekunst des Mittelalters und der Dürerzeit 1240-1540', Berlin, 1968, p. 105, fig. 182).
The pointed plate with the three holes would be pinned to the back cover (metal or wooden boards) and the hinge would be aligned with the edge of the cover. The strap would be made the correct length so that at the other end the back of the architectural clasp would fasten on to the stud on the edge of the front cover. For an earlier example of this type of book-clasp, see the 1339 'Plenar' of Otto der Milde of Brunswick (reigned 1318-44), which is still preserved in the Welfenschatz at Brunswick (described and illustrated in Johann Michael Fritz, 'Gestochene Bilder', Cologne, 1966, p. 456, no. 88, pl. 319).
Many of the late Gothic ornamental motifs used on the book-clasps can be found on French ecclesiastical silver-plate, such as the chalice and paten of 1516 in the Church of St James, Perpignan, and the nautilus shell nef given to the Cathedral of Chartres in 1540 ('Les Trésors des Eglises de France', exhibition catalogue, Paris, 1965, no. 579, pl. 200, and no. 121, pl. 221, respectively).
Bibliography
John Charles Robinson, 'Notice of the Principal Works of Art in the Collection of Hollingworth Magniac, Esq.', London, 1861, p. 28, no. 35
Christie's Sale Catalogue of the Collection of Works of Art chiefly formed by the late Hollingworth Magniac, Esq. (known as the Colworth Collection), 11 July 1892, p. 182, lot 803
Charles Hercules Read, 'The Waddesdon Bequest: Catalogue of the Works of Art bequeathed to the British Museum by Baron Ferdinand Rothschild, M.P., 1898', London, 1902, no. 225
O.M. Dalton, 'The Waddesdon Bequest', 2nd edn (rev), British Museum, London, 1927, no. 225
Bibliography: F. W. Fairholt, 'Miscellanea Graphica, Representations of ancient, medieval and renaissance remains in the possession of Lord Londesborough', London, 1857, text and pl. XLI
F. W. Fairholt, 'An illustrated descriptive Catalogue of the Collection of Antique Silver Plate formed by Albert, Lord Londesborough, now the property of Lady Londesborough', London, 1860, pp. 26-7, pl. xx, 7
Charles Hercules Read, 'The Waddesdon Bequest: Catalogue of the Works of Art bequeathed to the British Museum by Baron Ferdinand Rothschild, M.P., 1898', London, 1902, no. 143, pl. XXXIII
O.M. Dalton, 'The Waddesdon Bequest', 2nd edn (rev), British Museum, London, 1927, no. 143
J. F. Hayward, 'Virtuoso Goldsmiths and the Triumphs of Mannerism 1540-1620', Sotheby Parke Bernet Publications, London, 1976, p. 393, pl. 573
Hugh Tait, 'Catalogue of the Waddesdon Bequest in the British Museum, II : The Silver Plate', British Museum, London, 1988, nos. 3-4, figs. 13-15.

References
Read 1902: Read, Charles Hercules, The Waddesdon Bequest. Catalogue of the Works of Art Bequeathed to the British Museum by Baron Ferdinand Rothschild, M.P., 1898, London, BMP, 1902
Dalton 1927: Dalton, Ormonde Maddock, The Waddesdon Bequest : jewels, plate, and other works of art bequeathed by Baron Ferdinand Rothschild., London, BMP, 1927
Tait 1988: Tait, Hugh, Catalogue of the Waddesdon Bequest in the British Museum; II The Silver Plate, London, BMP, 1988