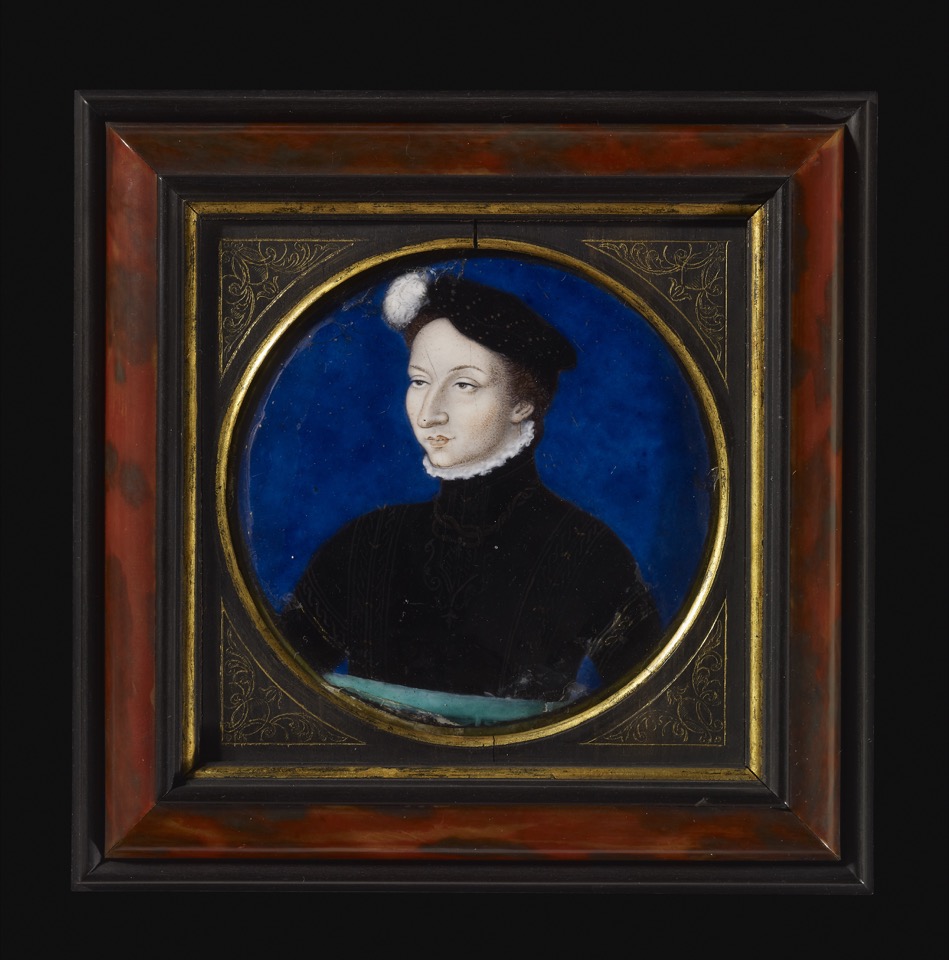 The identity of the sitter and the origin of the piece are uncertain.
Curator's Description
Painted Limoges enamel medallion; copper, circular; portrait bust man in 16th century costume, painted in semi-opaque enamels and grisaille with flesh tones, gilding, stippled and details produced by enlevage on a blue ground on white preparation; counter enamel transparent with green flux; inscribed.
This object was previously owned by Failly, collected by Anselm von Rothschild and bequeathed to the British Museum by Ferdinand Anselm Rothschild.
How big is it?
14.6 cm wide, 14.9 cm high, 2.5 cm deep, and it weighs 238g
Detailed Curatorial Notes
Provenance: Purchased in the sale of M. Failly, Paris, 1858 (lot no. 2), by Baron Anselm von Rothschild, Vienna, (cat. no. 12) passing by inheritance to his son Baron Ferdinand Rothschild (d. 1898).
Commentary: The sitter in the portrait is unidentified. An inscription on the back in ink implies that it is a portrait of 'Charles IX of France born in 1550', but this appears to be a later addition and may not be correct. The verso of the portrait is signed 'LL' below a fleur de lys, in a similar way to a portrait of Henri d'Albret, King of Navarre, in the Wallace Collection (inv. no. C585). However in the case of WB.25 further investigation is required to establish whether this signature is contemporaneous with the rest of the work. A portrait plaque of Jean-Philippe, Count Palatine of the Rhine in the Louvre (inv. no. MRR 283) is signed and dated in almost exactly the same way.
The back of the frame has a label with the number '12', its number in Baron Anselm von Rothschild's collection.
Bibliography
'Catalogue des Objects d'Art, Curiosités et Tableaux Anciens du Cabinet de Feu M. Failly', Paris, 1858, lot no.2
Charles Hercules Read, 'The Waddesdon Bequest: Catalogue of the Works of Art bequeathed to the British Museum by Baron Ferdinand Rothschild, M.P., 1898', London, 1902, no. 25, fig. 8
O.M. Dalton, 'The Waddesdon Bequest', 2nd edn (rev), British Museum, London, 1927, no.25
H. Tait, 'The Waddesdon Bequest', BM London, 1981, p.47, pl. IXA.

References
Read 1902: Read, Charles Hercules, The Waddesdon Bequest. Catalogue of the Works of Art Bequeathed to the British Museum by Baron Ferdinand Rothschild, M.P., 1898, London, BMP, 1902
Dalton 1927: Dalton, Ormonde Maddock, The Waddesdon Bequest : jewels, plate, and other works of art bequeathed by Baron Ferdinand Rothschild., London, BMP, 1927
Scrase handlist: Scrase handlist