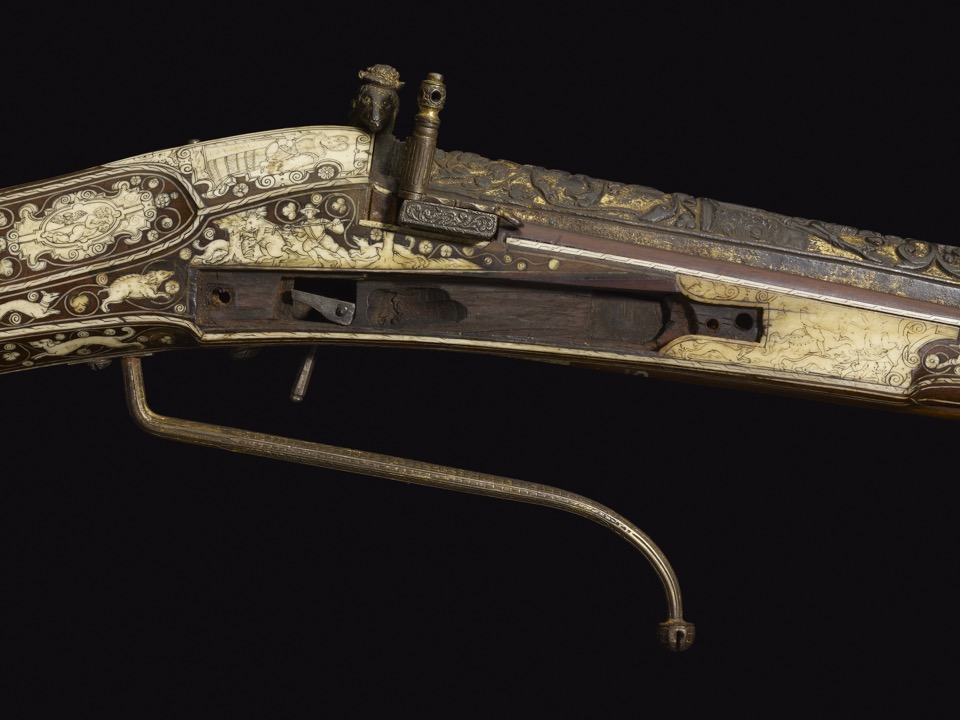 The stock and barrel were fitted together later, probably for Frédéric Spitzer.
Curator's Description
Matchlock gun; barrel gilded and fluted; muzzle in form of Corinthian capital with four Pan-like figures; breech chased in relief with formal scroll work, masks and figure of St Christopher; oblong lock plate with scrolls; match-holder in form of monstrous animal; backsight in the form of a double sheep's head with hat; stock curved and inlaid with bone plaques, running animals, figures of Virtues, Diana and Actaeon, the scenes with principle figures inscribed with their names, a convivial scene, etc.; foresight wanting. One of the inlaid plaques on the barrel with figure of Hope (the first one in from the muzzle), inscribed SPES with the letters GS.
This object was previously owned by Frédéric Spitzer, and collected and bequeathed to the British Museum by Ferdinand Anselm Rothschild.
How big is it?
1.5m wide, 29 cm high, 6 cm deep, and it weighs 5.3 kg
Detailed Curatorial Notes
Purchased by Baron Ferdinand de Rothschild at the sale of the collection of Frédéric Spitzer in Paris in 1893.
Commentary: The Spitzer catalogue image shows a different ramrod which is longer and has a larger tip. This gun has undergone a number of other alternations. The engraved bone panel at the back of the butt is in a different style and lacks the quality of the rest of the inlay. The trigger guard has been set the wrong way round, and it cannot be mounted the right wy round because the ramrod is set too far back. The lack of retaining pieces for the ramrod is also unusual. The muzzle extends beyond the length of the barrel, as in WB.9, but it is nevertheless all one piece of metal with the barrel. The barrel does not fit well where it joins the stock, neccessitating infill behind the pan. There is further infill on the lock plate, and the ramrod channel has been altered. All of this suggests that the gun may have been given a new barrel and a new lock (information kindly supplied by David Edge and Jamie Hood, July 2012).
Bibliography
'Catalogue . . . de la . . . Collection Spitzer', Paris, 17 April - 16 June 1893, lot 321, fig. 52, described as 'French XVIth century'
Charles Hercules Read, 'The Waddesdon Bequest: Catalogue of the Works of Art bequeathed to the British Museum by Baron Ferdinand Rothschild, M.P., 1898', London, 1902, no. 10
F.H. Cripps-Day, 'A record of Armour Sales 1881- 1924', London 1925, p. 95 (text) and p. 91 (ill.), sold for 5,100 francs (£204)
O.M. Dalton, 'The Waddesdon Bequest', 2nd edn (rev), British Museum, London, 1927, no.10.

References
Read 1902: Read, Charles Hercules, The Waddesdon Bequest. Catalogue of the Works of Art Bequeathed to the British Museum by Baron Ferdinand Rothschild, M.P., 1898, London, BMP, 1902
Dalton 1927: Dalton, Ormonde Maddock, The Waddesdon Bequest : jewels, plate, and other works of art bequeathed by Baron Ferdinand Rothschild., London, BMP, 1927