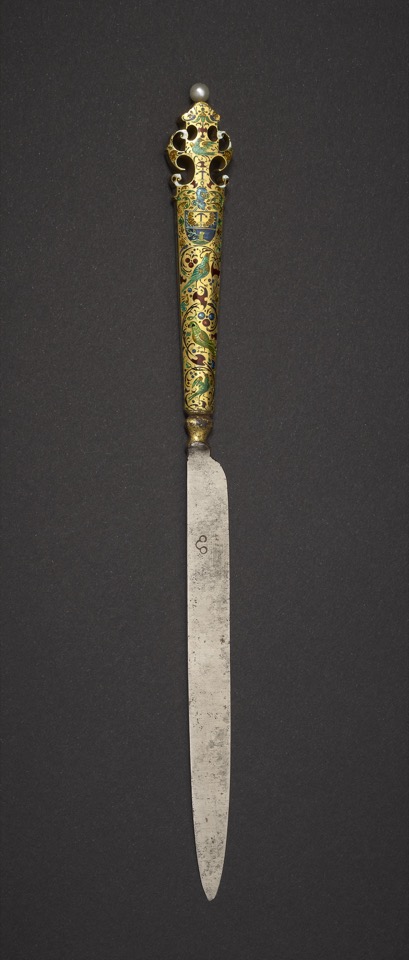 Curator's Description
Knife; slender pointed steel blade; gold handle, engraved with birds within scrolls filled with translucent enamels; two shields of arms: De Bordes of Amsterdam and arms of Commelin of Amsterdam; end of handle cut to represent scrolls, terminates in pearl; inscribed.
This object was collected and bequeathed to the British Museum by Ferdinand Anselm Rothschild.
How big is it?
1.8 cm wide, 20.5 cm high, 0.8 cm deep, and it weighs 47g
Detailed Curatorial Notes
Provenance: None is recorded.
Commentary: The arms are those of Commelin and de Bordes (two families of Amsterdam) and Maria de Bordes is engraved and enamelled on the gold handle. On May 2 1608, Baldwin de Bordes married Maria Commelin.
Bibliography
Charles Hercules Read, 'The Waddesdon Bequest: Catalogue of the Works of Art bequeathed to the British Museum by Baron Ferdinand Rothschild, M.P., 1898', London, 1902, no. 201, pl.XLIII
O.M. Dalton, 'The Waddesdon Bequest', 2nd edn (rev), British Museum, London, 1927, no.201.

References
Read 1902: Read, Charles Hercules, The Waddesdon Bequest. Catalogue of the Works of Art Bequeathed to the British Museum by Baron Ferdinand Rothschild, M.P., 1898, London, BMP, 1902
Dalton 1927: Dalton, Ormonde Maddock, The Waddesdon Bequest : jewels, plate, and other works of art bequeathed by Baron Ferdinand Rothschild., London, BMP, 1927