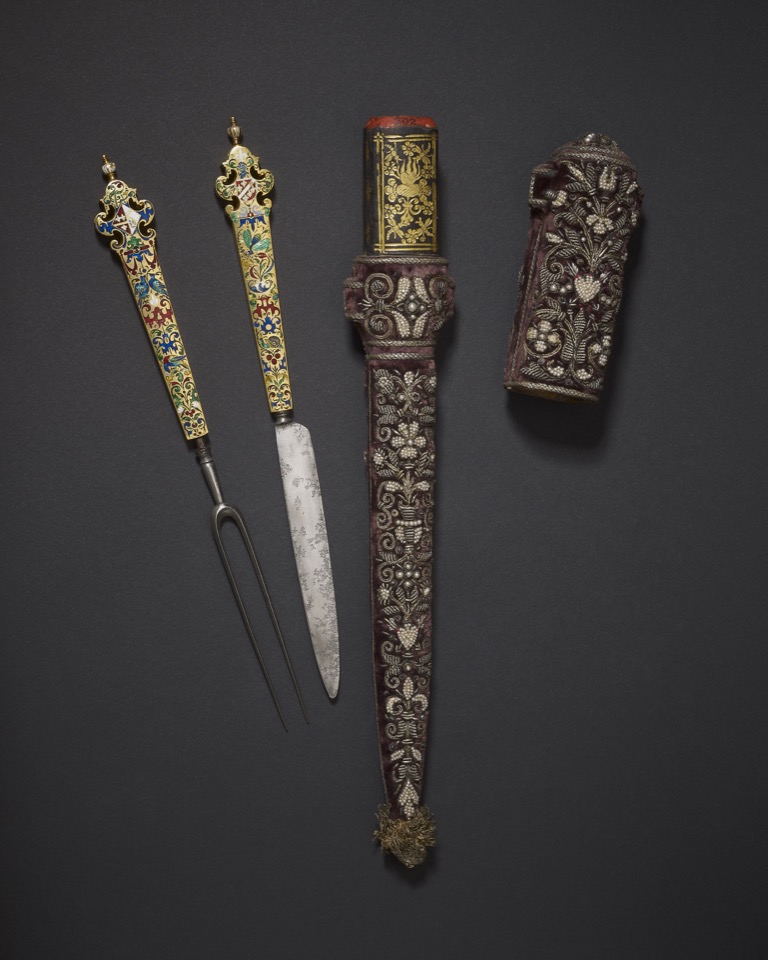 Curator's Description
Wedding knife and fork; gold enamelled handles; purple velvet sheath embroidered with gold thread and seed pearls; knife handle engraved on one side and filled with enamel, scrolls, birds and insects; ship on top with flag of Holland; other face similar but with shield of arms, including fleur-de-lis; upper end cut into scroll form; fork similar but with two clasped hands supporting a balance; different shield of arms with fleur-de-lis; sheath with formal floral patterns, part under cap stamped in gold with clasped hands holding a heart flaming; suspension loops; inscribed.
This object was collected and bequeathed to the British Museum by Ferdinand Anselm Rothschild.
How big is it?
4.2 cm wide, 31 cm high, 3.5 cm deep, and it weighs 208g
Detailed Curatorial Notes
Provenance: None is recorded.
Commentary: This type of knife handles is a favourite one of Le Blon, and the ornament is much in his style.
Bibliography
Charles Hercules Read, 'The Waddesdon Bequest: Catalogue of the Works of Art bequeathed to the British Museum by Baron Ferdinand Rothschild, M.P., 1898', London, 1902, no. 202, pl.XLIII
O.M. Dalton, 'The Waddesdon Bequest', 2nd edn (rev), British Museum, London, 1927, no.202.

References
Read 1902: Read, Charles Hercules, The Waddesdon Bequest. Catalogue of the Works of Art Bequeathed to the British Museum by Baron Ferdinand Rothschild, M.P., 1898, London, BMP, 1902
Dalton 1927: Dalton, Ormonde Maddock, The Waddesdon Bequest : jewels, plate, and other works of art bequeathed by Baron Ferdinand Rothschild., London, BMP, 1927