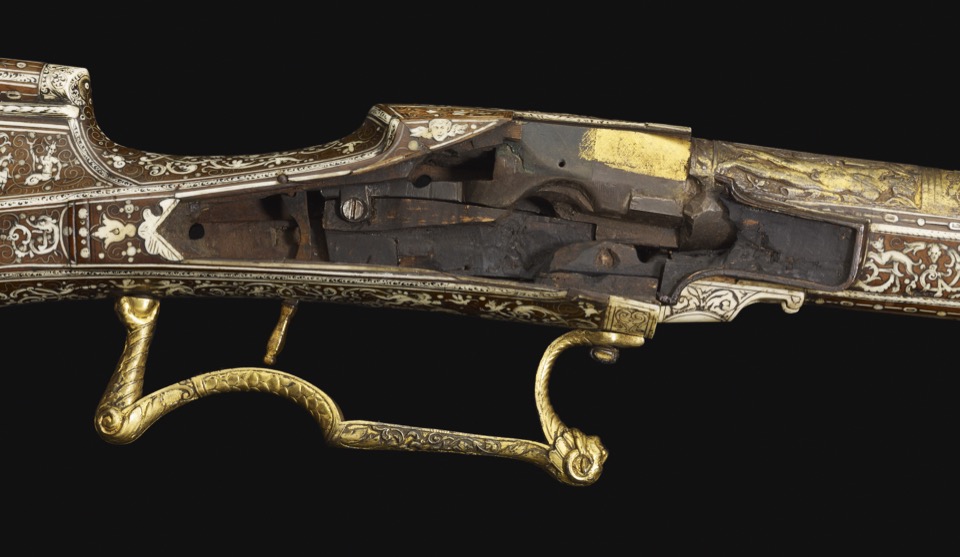 Altered for Frédéric Spitzer.
Curator's Description
Wheel-lock gun; barrel faceted, gilded and engraved with cable pattern; muzzle in form of monster; breech chased with elegant scrollwork, marine monsters and figures of Abundance and Cupid; lock plate, trigger guard, etc., elaborately chased in relief, the trigger guard in the form of a monster with head at the front and hind parts at the back; stock inlaid with delicate scrolls containing figures and animals, all in ivory.
This object was previously owned by Frédéric Spitzer, and collected and bequeathed to the British Museum by Ferdinand Anselm Rothschild.
How big is it?
1.6m wide, 22 cm high, 9 cm deep, and it weighs 6.7 kg
Detailed Curatorial Notes
Provenance: Purchased by Baron Ferdinand de Rothschild at the sale of the collection of Frédéric Spitzer in Paris in 1893.
Commentary: This gun was one of the most expensive items in the Spitzer sale; the four guns purchased by Ferdinand de Rothschild were the most expensive in the sale. Cripps-Day records that at £1,400 it sold for considerably less than the £2,800 Spitzer had paid for it. The Spitzer catalogue notes that the object has undergone restorations.
Many features suggest that this is a composite object or has been altered at a later date. Its massive scale, inelegant porportions and over-elaborate decoration, for example the continuous ornament all along the barrel instead of the standard areas of ornament, are all unusual. The round end to the stock on one side serves no function and may possibly have been made for a double-barrelled gun. The copper alloy muzzle in the form of a monster appears to have been added, as it extends beyond the ramrod: normally both muzzle and ramrod are the same length. The metal butt plate and its overlarge ball is also probably later. The screws that hold the wheel cover have been truend into flowerheads, and when the lockplate is unscrewed all three screws have modern threads. There is some patching in the inlay on the top of the stock, and the piece of engraved bone on the underside of the stock is not the quality of the rest of the inlay. There is a patch of filler on the side of the stock at the breech, and a further repair to the back of the stock with the remains of holes for a screw.
(information kindly supplied by David Edge and Jamie Hood, July 2012).
Bibliography
'Catalogue . . . de la . . . Collection Spitzer', Paris, 17 April - 16 June 1893, lot 323, fig. 52, described as 'travail Italien, fin du XVIth century'
Charles Hercules Read, 'The Waddesdon Bequest: Catalogue of the Works of Art bequeathed to the British Museum by Baron Ferdinand Rothschild, M.P., 1898', London, 1902, no. 9
F.H. Cripps-Day, 'A record of Armour Sales 1881-1924', London 1925, p. 95 (text) and p. 91 (ill.), sold for 35,000 francs (£1,400)
O.M. Dalton, 'The Waddesdon Bequest', 2nd edn (rev), British Museum, London, 1927, no.9.

References
Read 1902: Read, Charles Hercules, The Waddesdon Bequest. Catalogue of the Works of Art Bequeathed to the British Museum by Baron Ferdinand Rothschild, M.P., 1898, London, BMP, 1902
Dalton 1927: Dalton, Ormonde Maddock, The Waddesdon Bequest : jewels, plate, and other works of art bequeathed by Baron Ferdinand Rothschild., London, BMP, 1927