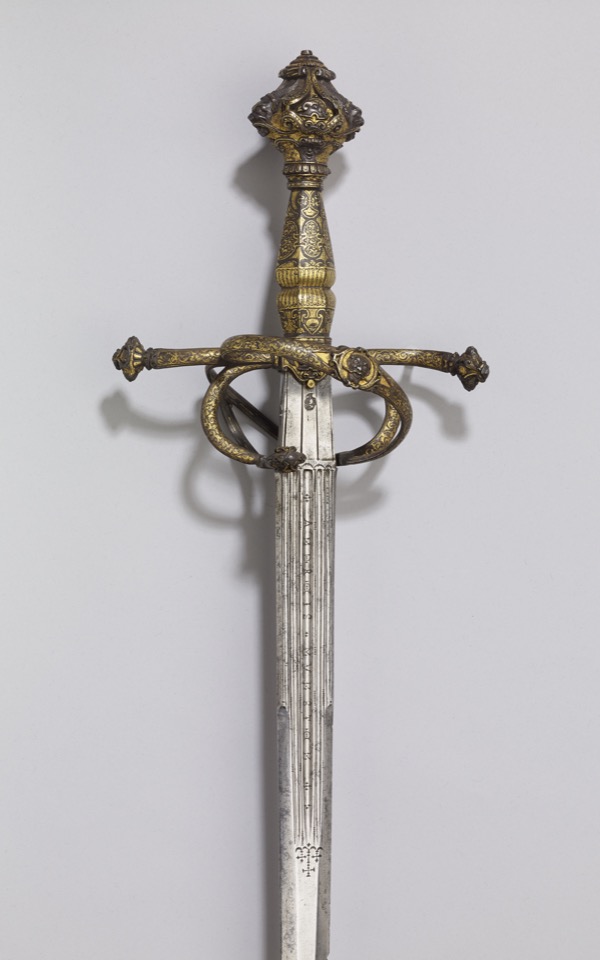 A 'bitzer': made up in the 1800s for the dealer Frédéric Spitzer.
Curator's Description
Sword; blade fluted near butt and stamped on both faces with name and maker's stamp; hilt entirely of iron, chased and damascened with gold; pommel chased with heavy scrolls with masks and trophies; faceted baluster shaped grip; quillons S shaped with knuckle guards, loops at side of tang, etc; inscribed., the linear motifs all damascened, with gilded areas on a matted ground on pommel and guard; inscribed.
This object was previously owned by Frédéric Spitzer, and collected and bequeathed to the British Museum by Ferdinand Anselm Rothschild.
How big is it?
18.5 cm wide, 1.1m high, 9.8 cm deep, and it weighs 1.1 kg
Detailed Curatorial Notes
Provenance: Purchased by Baron Ferdinand de Rothschild at the sale of the collection of Frédéric Spitzer, Paris 17th April - 6th June 1893, lot 185.
Commentary: This sword is composite, the following comments made by Tobias Capwell on 9th Oct 2012: Blade is good quality and German. The moor's head mark was used as a brand mark for high quality blades from Germany, but does not indicate the manufacturing centre. The hilt is likely to be 19th century and has been added to the earlier blade. Similar damascening to that on the grip appears on a sword in the Wallace collection which has been redecorated. The faces on the hilt are of crude workmanship.
Laking 1920-22 records that the blade is the work of Andreas Münsten, who worked at Solingen and later Toledo. He also notes that the sword was 'obtained some forty years ago' in Castile.
Bibliography
'Catalogue . . . de la . . . Collection Spitzer', Paris, 17 April - 16 June 1893, lot 185
Charles Hercules Read, 'The Waddesdon Bequest: Catalogue of the Works of Art bequeathed to the British Museum by Baron Ferdinand Rothschild, M.P., 1898', London, 1902, no. 12
G.F. Laking, 'A Record of European Arms and Armour Through Seven Centuries', London 1920-22, vol. IV, pp. 281-2 and fig. 1348, p. 283
F.H. Cripps-Day, 'A record of Armour Sales 1881- 1924', London 1925, p. 88, sold for 25,000 francs (£1,000)
O.M. Dalton, 'The Waddesdon Bequest', 2nd edn (rev), British Museum, London, 1927, no.12.

References
Read 1902: Read, Charles Hercules, The Waddesdon Bequest. Catalogue of the Works of Art Bequeathed to the British Museum by Baron Ferdinand Rothschild, M.P., 1898, London, BMP, 1902
Dalton 1927: Dalton, Ormonde Maddock, The Waddesdon Bequest : jewels, plate, and other works of art bequeathed by Baron Ferdinand Rothschild., London, BMP, 1927