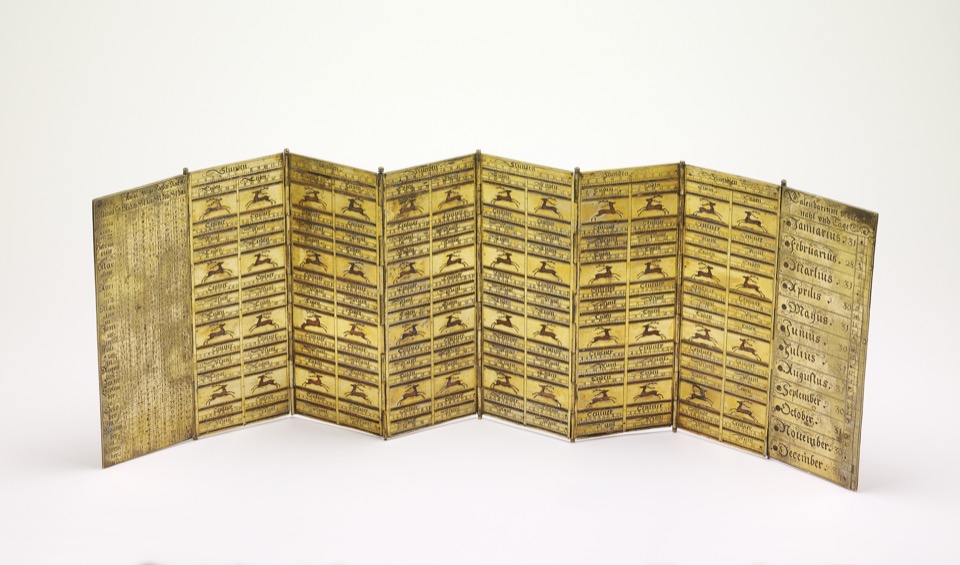 Curator's Description
Hunting calendar; brass; formed of eight hinged leaves, each engraved on both sides; one side all leaves divided by horizontal furrows filled with red wax; above these are rows of numbers and above those the name of the particular kind of game, object to record on the waxed line the number shot; animals include wolf, bear, boar, deer and rabbit; seventh and eight leaves with names of dogs; other side: leaf one has sun's rising and setting and length of day and night for each week; leaf eight has the number of months with the number of days in each; remaining six each have four pair of deer with, below, a scale of hundredweights and pounds; inscribed.
This object was collected and bequeathed to the British Museum by Ferdinand Anselm Rothschild.
How big is it?
59.5 cm wide, 20.6 cm high, 2 cm deep, and it weighs 1.6 kg
Detailed Curatorial Notes
Provenance: None is recorded.
Bibliography
Charles Hercules Read, 'The Waddesdon Bequest: Catalogue of the Works of Art bequeathed to the British Museum by Baron Ferdinand Rothschild, M.P., 1898', London, 1902, no. 228 fig..34
O.M. Dalton, 'The Waddesdon Bequest', 2nd edn (rev), British Museum, London, 1927, no.228.

References
Read 1902: Read, Charles Hercules, The Waddesdon Bequest. Catalogue of the Works of Art Bequeathed to the British Museum by Baron Ferdinand Rothschild, M.P., 1898, London, BMP, 1902
Dalton 1927: Dalton, Ormonde Maddock, The Waddesdon Bequest : jewels, plate, and other works of art bequeathed by Baron Ferdinand Rothschild., London, BMP, 1927