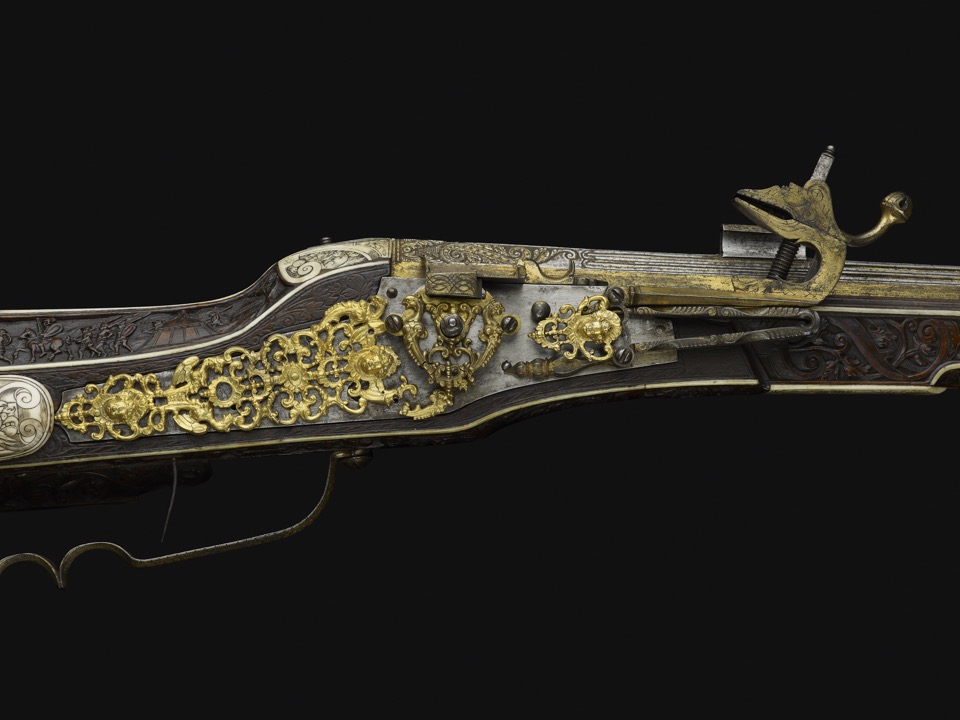 Curator's Description
Wheel-lock rifle; barrel polished and chased with scrolls at muzzle, the bore with 8-groove thread, inscribed; breech fluted and provided with fixed tubular back sight; cast openwork gilt metal lock plate with scrolls and masks; ramrod with etched metal tip; stock ornamented with carving of various scenes on all sides, including a male figure bearing a shield on the underside, as well as ornamental scrolls and wreaths, and inlaid with engraved bone plaques with scenes from life of David; the initials 'PO' engraved in the bone inlay on top of stock.The butt cap in the form of a high relief carved ivory head of a lion, the inlay for the eyes missing, the mouth holding a gilded metal ball forming the toe of the butt.
This object was previously owned by Frédéric Spitzer, and collected and bequeathed to the British Museum by Ferdinand Anselm Rothschild.
How big is it?
1.3m wide, 18 cm high, 8 cm deep, and it weighs 5.4 kg
Detailed Curatorial Notes
Provenance: Purchased by Baron Ferdinand de Rothschild at the sale of the collection of Frédéric Spitzer in Paris in 1893.
Commentary: The shape and construction of this rifle is consistent with a 17th century date but it has a number of unusual features suggesting either that it has been altered at a later date or that it is a composite piece. The ivory lion butt cap for example is likely to be a 19th century addition as the butt end would normally have a flat sheet of engraved metal or bone, and the lock plate may be a later cast. The pierced hearts on the pan cover and on the side of the wheel cover are also unusual, as is the fine carving of the woodwork. The metalwork decoration on the top of the stock incorporates two stamps, possibly imitating barrelsmiths' marks.
The patch-box release stud is missing; normally it would press on a leaf spring and catch so that the bone plaque forming the lid slides out to reveal a hollow for cleaning materials and ammunition, or for linen patches to wrap round the balls to obtain a tighter grip. The stud is present in the Spitzer sale catalogue image, which also suggests that the ramrod then with the gun was longer than the present ramrod. (information kindly supplied by David Edge and Jamie Hood, July 2012).
Comparable gun sold at Christies London, The Collection of Barons Nathaniel and Albert von Rothschild, Sale 6179, 8th July 1999, lot 86. They suggest comparison with the BM example. The carving on the Rothschild example is after Virgil Solis prints, with the arms of Saxony on its barrel.
Bibliography
'Catalogue . . . de la . . . Collection Spitzer', Paris, 17 April - 16 June 1893, lot 320, fig. 52
Charles Hercules Read, 'The Waddesdon Bequest: Catalogue of the Works of Art bequeathed to the British Museum by Baron Ferdinand Rothschild, M.P., 1898', London, 1902, no. 7
F.H. Cripps-Day, 'A record of Armour Sales 1881-1924', London 1925, p. 95 (text) and p. 93 (ill.), sold for 16,000 francs (£640)
O.M. Dalton, 'The Waddesdon Bequest', 2nd edn (rev), British Museum, London, 1927, no.7.

References
Read 1902: Read, Charles Hercules, The Waddesdon Bequest. Catalogue of the Works of Art Bequeathed to the British Museum by Baron Ferdinand Rothschild, M.P., 1898, London, BMP, 1902
Dalton 1927: Dalton, Ormonde Maddock, The Waddesdon Bequest : jewels, plate, and other works of art bequeathed by Baron Ferdinand Rothschild., London, BMP, 1927