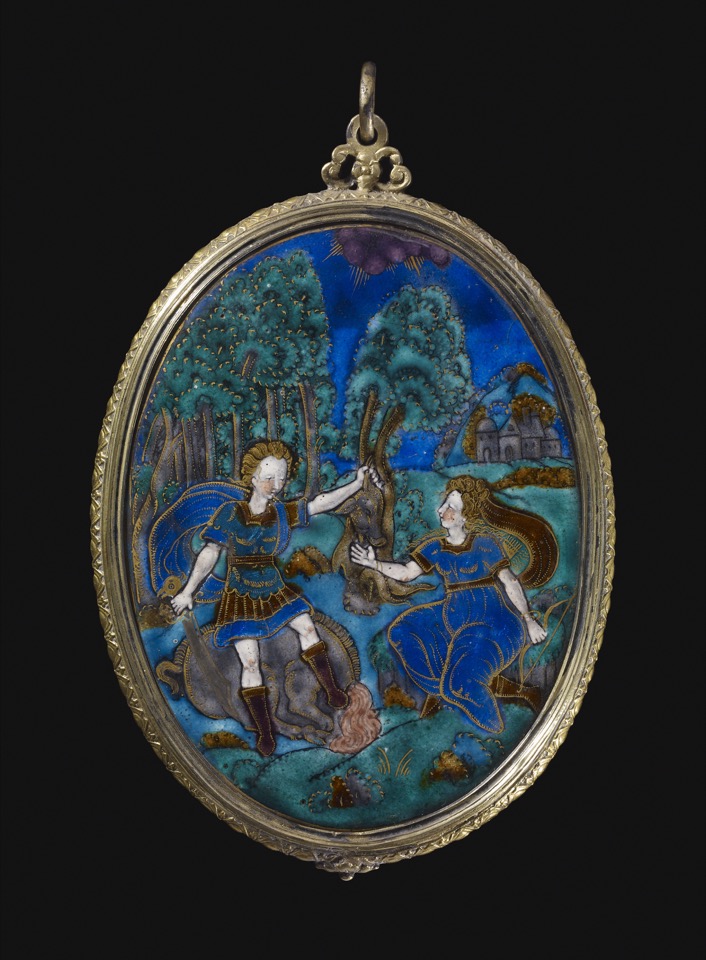 11a shows Meleager and Atlanta with the head of the Calydonian boar, and has a modern frame, probably made for Frédéric Spitzer. 1lb shows Dido appealing to Diana. 11c shows a tree watered by cupids inscribed in French 'love will die if it isn't watered'. Both 11b and 11c are signed 'S. C.' for the female enameller Susanne Court, and come from the collections of the Dukes of Marlborough.
Curator's Description
Painted Limoges enamel mirror back; copper, oval; set in copper electrotype frame; Atalanta and Meleager at the death of the Calydonian boar; painted in semi-opaque enamels on a white preparation, translucent enamels over coloured foils and grey-white grisaille with flesh tones, stippled; outlines produced by enlevage and gilded.
This object was previously owned by Frédéric Spitzer, and collected and bequeathed to the British Museum by Ferdinand Anselm Rothschild.
How big is it?
7.9 cm wide, 12.3 cm high, 1 cm deep, and it weighs 93g
Detailed Curatorial Notes
Provenance: Purchased by Baron Ferdinand Rothschild at the sale of the collection of Frédéric Spitzer, Paris 17th April - 6th June 1893, lot 493.
Commentary: Based on engravings by Bernard Salomon. Formerly thought to be by Jean Limousin or his workshop, the mirror has since been attributed to Jean Guibert in Notin 2007 (see bibliography), along with three other works in the British Museum collection; a salt cellar (reg. no. 1913,1220.70), and two further mirror-backs (reg. nos. 1913,1220.72 and 1885,0508.17). There is a Spitzer label on the reverse of WB.40.
For comparative mirror with Pyramus and Thisbe see Christie's Paris 16 June 2015 lot 68.
Bibliography
'Catalogue . . . de la . . . Collection Spitzer', Paris, 17 April - 16 June 1893, lot 493
Charles Hercules Read, 'The Waddesdon Bequest: Catalogue of the Works of Art bequeathed to the British Museum by Baron Ferdinand Rothschild, M.P., 1898', London, 1902, no. 40
O.M. Dalton, 'The Waddesdon Bequest', 2nd edn (rev), British Museum, London, 1927, no.40
Véronique Notin, 'Catalogue sommaire des émaux attribués à Jean Guibert conservés en collections publiques', in 'Bull.de al Soc. Archaeol. et hist.du Limousin', vol. CXXXV, 2007, p. 135.

References
Read 1902: Read, Charles Hercules, The Waddesdon Bequest. Catalogue of the Works of Art Bequeathed to the British Museum by Baron Ferdinand Rothschild, M.P., 1898, London, BMP, 1902
Dalton 1927: Dalton, Ormonde Maddock, The Waddesdon Bequest : jewels, plate, and other works of art bequeathed by Baron Ferdinand Rothschild., London, BMP, 1927
Scrase handlist: Scrase handlist