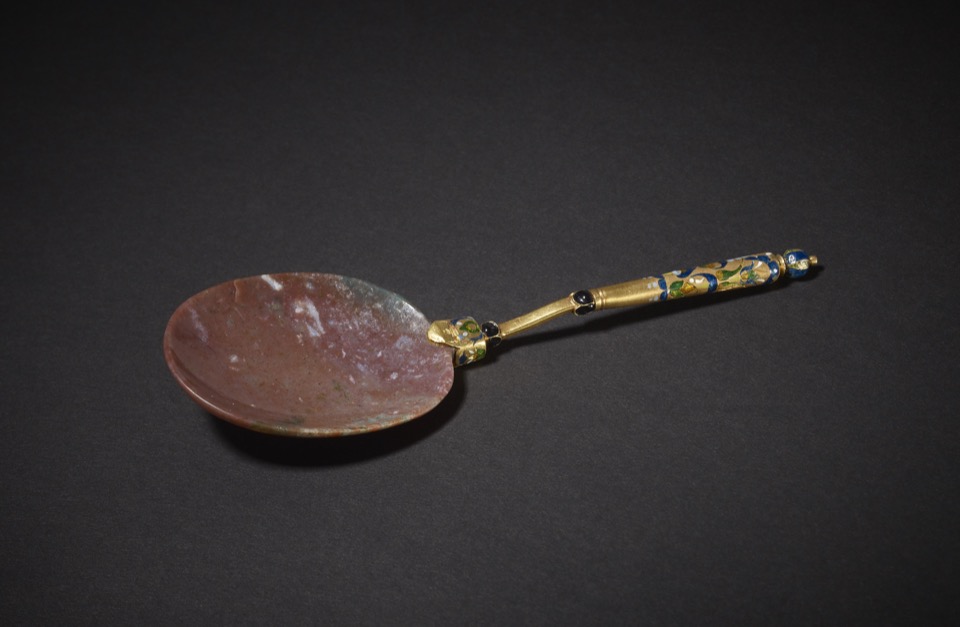 Curator's Description
Spoon; oval bowl of liver-coloured jasper; gold handle, engraved and enamelled with formal tulip-like flowers in blue, amber and green.
This object was collected and bequeathed to the British Museum by Ferdinand Anselm Rothschild.
How big is it?
4.5 cm wide, 13.6 cm high, 2 cm deep, and it weighs 26.8g
Detailed Curatorial Notes
Text from Tait 1991a:-
Origin: Uncertain; previously described as 'Dutch or French, late 16th century', but more probably substantially altered in 19th century, perhaps in London.
Provenance: None is recorded.
Commentary: The black enamelled gold rod (linking the bowl and the handle) is of greatly inferior workmanship, and therefore cannot be original. It appears to be part of a major alteration, probably done in the nineteenth century, for file marks are clearly visible on the chamfered corners and the screw-thread at the end is modern. At the other end, not only is the rod crudely joined to the square top of the gold mount without any sense of Renaissance design but there is no apparent reason why the gold mount should effectively continue to cap the square, projecting, polished jasper; firstly, there are no lips around which the gold can be wrapped and so make the gold mount secure; secondly, it would be contrary to Renaissance practice to rely on some form of adhesive to fix the gold mount in position. However, the jasper projection may have been drilled at the same time as the nineteenth-century gold linking rod was introduced.
In style, the enamelled decoration of the detachable handle and the square, petal-shaped mount (capping the spoon-bowl) are similar, being reminiscent of fashionable ornamental designs of the second quarter of the seventeenth century, especially in France and the Netherlands, but it does not seem to have been originally made to accompany this jasper spoon-bowl, which is probably of late sixteenth-century origin. The enamelled gold handle would have been made with a screw-thread so that it could be used in a small compact travelling étui or case. However, it was not necessarily made to be the handle of a spoon, but was perhaps part of some other small object (like a pen), which subsequently became separated accidentally. Consequently, the undisguised crudity of the linking gold rod is probably indicative of a simple practical repair rather than any attempt to create a spurious - but unparalleled - category of object.
This altered jasper hardstone spoon, now associated in perpetuity with a detachable handle of enamelled gold, is tangible evidence, therefore, of the well-known nineteenth-century practice of salvaging the remains from more than one genuine object and creating a 'marriage'. A puzzling aspect of this creation, however, is that the new linking piece has not been better fashioned. Even more odd is the omission in Read 1902 and Dalton 1927 of any mention of the handle's internal thread or, indeed, that the handle unscrews - with the beneficial result that this spoon has, at least, never been published as a Renaissance 'travelling spoon'.
Bibliography
Charles Hercules Read, 'The Waddesdon Bequest: Catalogue of the Works of Art bequeathed to the British Museum by Baron Ferdinand Rothschild, M.P., 1898', London, 1902, no. 213
O.M. Dalton, 'The Waddesdon Bequest', 2nd edn (rev), British Museum, London, 1927, no. 213
Hugh Tait, 'Catalogue of the Waddesdon Bequest in the British Museum. II. The Curiosities', British Museum, London, 1991, no.28, figs. 267-269.Image: Group photograph depicts British Museum registration numbers from left to right: WB.204, WB.205, WB.211, WB.212, WB.213.

References
Read 1902: Read, Charles Hercules, The Waddesdon Bequest. Catalogue of the Works of Art Bequeathed to the British Museum by Baron Ferdinand Rothschild, M.P., 1898, London, BMP, 1902
Dalton 1927: Dalton, Ormonde Maddock, The Waddesdon Bequest : jewels, plate, and other works of art bequeathed by Baron Ferdinand Rothschild., London, BMP, 1927
Tait 1991a: Tait, Hugh, Catalogue of the Waddesdon Bequest in the British Museum; III The 'Curiosities', London, BMP, 1991