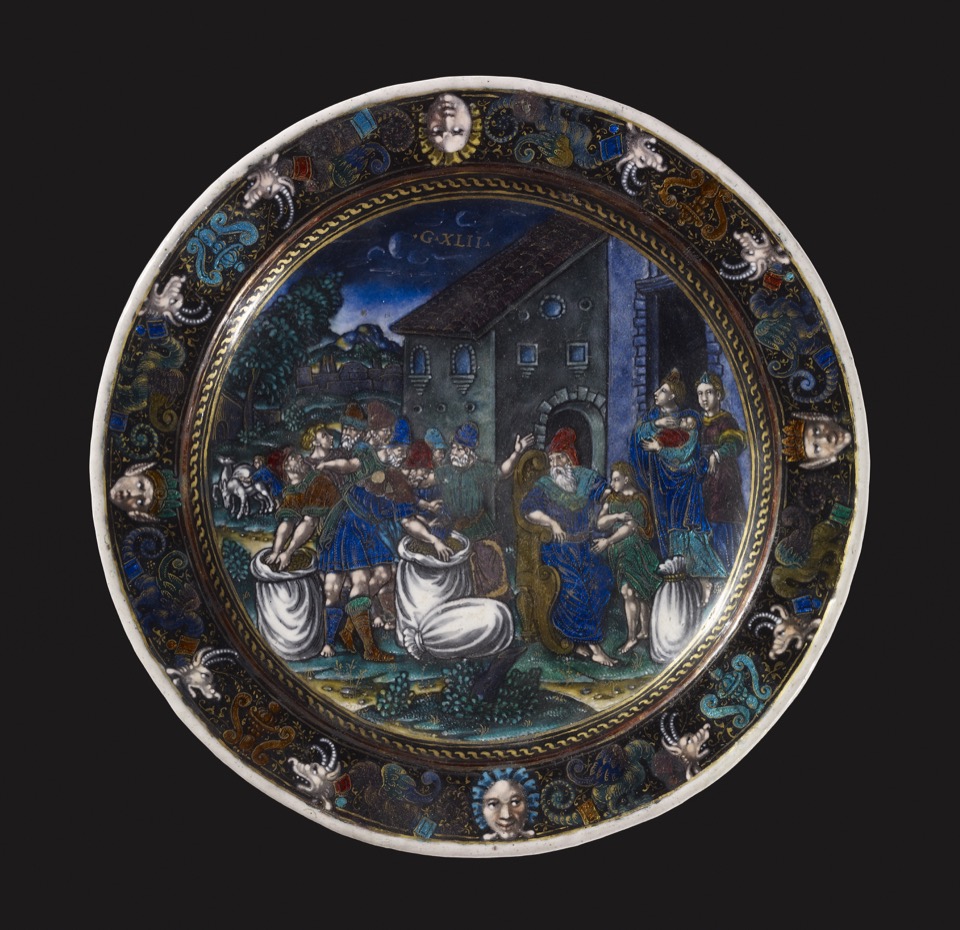 Joseph's brothers find money in their sacks. From a set with the biblical story of Joseph.
Curator's Description
Painted Limoges enamel plate; copper; obverse: Joseph's brothers finding the money in their corn sacks; grouped outside a house, Jacob seated with Benjamin; behind them two women; donkeys and a landscape with a village; reverse: signed; painted in semi-opaque enamel, translucent enamel over coloured foils and grisaille with pink flesh tones all on a black ground with details in gilding; inscribed. After a woodcut by Bernard Salomon from the Quadrins Historiques de la Bible.
This object was collected and bequeathed to the British Museum by Ferdinand Anselm Rothschild.
How big is it?
19.9 cm wide, 19.9 cm high, 2 cm deep, and it weighs 305g
Detailed Curatorial Notes
Provenance: None is recorded.
Commentary: A set of seven plates (originally from a larger set of 12) depicting scenes from the story of Joseph appeared in the sale 'Treasures from the Rothschild Collection', Sotheby's London, 12 December 2003, lot 15. These seven are documented in the collection of Lionel de Rothschild in 1882. The auction catalogue for this sale suggests that two other plates depicting scenes from the life of Joseph with a Rothschild provenance may have once been part of the same set (one from the collection of Baron Nathaniel de Rothschild sold at Sotheby's New York on the 29th May 1987, lot 152; the other in the Walters Art Gallery but originally from the collection of Baron Gustave de Rothschild). Due to the presence of further plates depicting the story of Joseph in the Louvre, Fitzwilliam Museum and the V&A, (and solitary / small groups of examples in other collections), some of which have the same scenes that are included in the set auctioned at Sotheby's, it can be concluded that more than one set was made. However the British Museum example is not mentioned in the Sotheby's catalogue entry, but could plausibly also have once been part of the Rothschild set auctioned at Sotheby's, or belong to another set.
The scenes are based on woodcuts by Bernard Salomon in 'Quadrins Historiques de la Bible', 1553.
Bibliography
Charles Hercules Read, 'The Waddesdon Bequest: Catalogue of the Works of Art bequeathed to the British Museum by Baron Ferdinand Rothschild, M.P., 1898', London, 1902, no. 34, pl. XIII
O.M. Dalton, 'The Waddesdon Bequest', 2nd edn (rev), British Museum, London, 1927, no.34.

References
Read 1902: Read, Charles Hercules, The Waddesdon Bequest. Catalogue of the Works of Art Bequeathed to the British Museum by Baron Ferdinand Rothschild, M.P., 1898, London, BMP, 1902
Dalton 1927: Dalton, Ormonde Maddock, The Waddesdon Bequest : jewels, plate, and other works of art bequeathed by Baron Ferdinand Rothschild., London, BMP, 1927
Scrase handlist: Scrase handlist