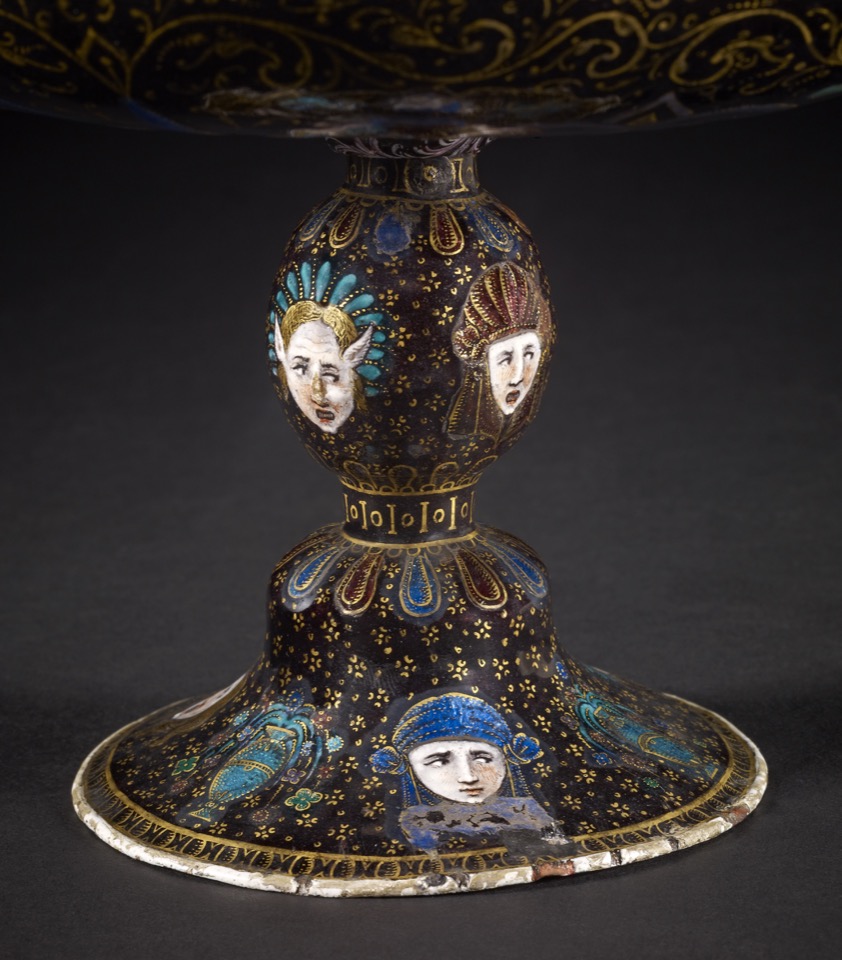 The book of Esther in the Bible tells how she delivered the Jewish people from the evil Haman.
Curator's Description
Painted Limoges enamel tazza; copper; with a bell foot on a short baluster stem; obverse: King Ahasuerus and Haman at the feast provided by Esther; signed; painted in semi-opaque enamels over a white preparation, translucent enamel over coloured foils and grey-white grisaille with details produced by enlevage and gilded, all on a black ground; inscribed.
This object was collected by Anselm von Rothschild and bequeathed to the British Museum by Ferdinand Anselm Rothschild.
How big is it?
16.8 cm wide, 11.5 cm high, 16.8 cm deep, and it weighs 255g
Detailed Curatorial Notes
Provenance: Baron Anselm von Rothschild, Vienna, by 1866 (cat no. 9), by inheritance to his son Baron Ferdinand Rothschild (d. 1898).
Bibliography
Charles Hercules Read, 'The Waddesdon Bequest: Catalogue of the Works of Art bequeathed to the British Museum by Baron Ferdinand Rothschild, M.P., 1898', London, 1902, no. 41
O.M. Dalton, 'The Waddesdon Bequest', 2nd edn (rev), British Museum, London, 1927, no.41.

References
Read 1902: Read, Charles Hercules, The Waddesdon Bequest. Catalogue of the Works of Art Bequeathed to the British Museum by Baron Ferdinand Rothschild, M.P., 1898, London, BMP, 1902
Dalton 1927: Dalton, Ormonde Maddock, The Waddesdon Bequest : jewels, plate, and other works of art bequeathed by Baron Ferdinand Rothschild., London, BMP, 1927
Scrase handlist: Scrase handlist