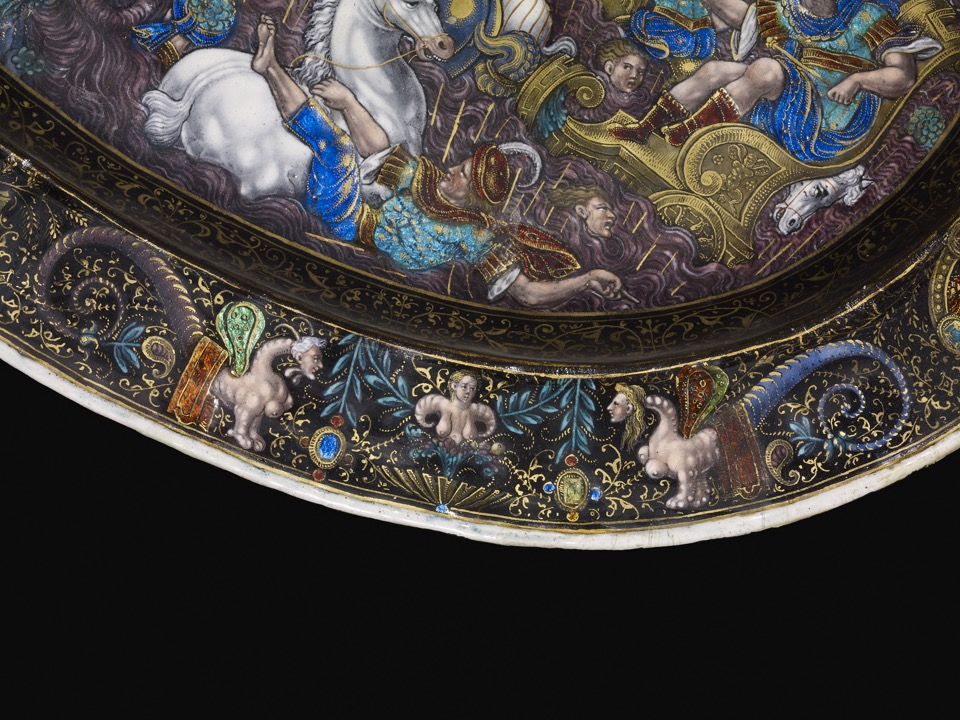 Monsters and figures radiate from the centre. The design is from a series of playful classical designs for bowls made by Étienne Delaune before 1573. Limoges enamellers decorated both fronts and backs of their dishes with great ingenuity. The front, showing the destruction of Pharaoh's Host, is badly damaged.
Curator's Description
Painted Limoges enamel dish; copper, oval; obverse: The Destruction of Pharaoh's army; Pharaoh crowned seated in a chariot drawn by horses, surrounded by men and horses all being enveloped by Red Sea rising at Moses command; behind him are the Israelites; on border: bust of a woman, Diana?; bust of a bearded man; reverse: terns of Diana and Neptune?; signed; painted in grisaille with salmon-pink flesh tones, semi-opaque dull enamels on a white preparation and translucent enamels over coloured foils all on a black ground with gilding and details produced by enlevage; inscribed.
This object was collected and bequeathed to the British Museum by Ferdinand Anselm Rothschild.
How big is it?
40.5 cm wide, 53.5 cm high, 7 cm deep, and it weighs 1.9 kg
Detailed Curatorial Notes
Provenance: None is recorded. The dish of the same subject recorded in the 1866 catalogue of Baron Anselm Rothschild, Vienna (cat. no. 3), is stated in the Lehman catalogue by the Metropolitan Museum of Art (see bibliography) to be the one in their collection and that it passed to Baron Nathaniel von Rothschild after Baron Anselm's death, but this may require further investigation.
Commentary: For a detailed discussion of the group of six dishes depicting the Destruction of the Hosts of Pharaoh to which this dish belongs, see Wolfram Koeppe, Clare Le Corbeiller, William Rieder [et al.], 'The Robert Lehman collection. XV, Decorative arts', Metropolitan Museum of Art, New York, 2012, pp.16-16. The closest comparison from this group is the example in the Metropolitan Museum (inv. no. 1975.1.1232), which has an identical border and reverse.
Bibliography
Charles Hercules Read, 'The Waddesdon Bequest: Catalogue of the Works of Art bequeathed to the British Museum by Baron Ferdinand Rothschild, M.P., 1898', London, 1902, no. 33, pl. X
O.M. Dalton, 'The Waddesdon Bequest', 2nd edn (rev), British Museum, London, 1927, no.33, Wolfram Koeppe, Clare Le Corbeiller, William Rieder [et al.], 'The Robert Lehman collection. XV, Decorative arts', Metropolitan Museum of Art, New York, 2012, p. 22.

References
Read 1902: Read, Charles Hercules, The Waddesdon Bequest. Catalogue of the Works of Art Bequeathed to the British Museum by Baron Ferdinand Rothschild, M.P., 1898, London, BMP, 1902
Dalton 1927: Dalton, Ormonde Maddock, The Waddesdon Bequest : jewels, plate, and other works of art bequeathed by Baron Ferdinand Rothschild., London, BMP, 1927
Scrase handlist: Scrase handlist