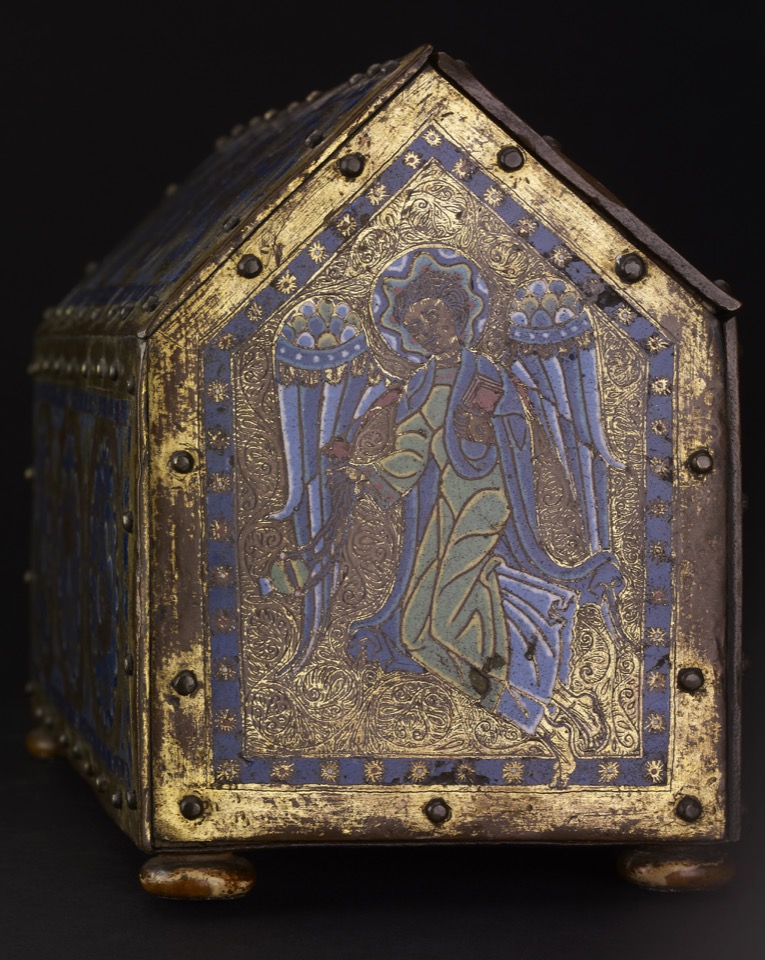 Perhaps made to hold relics of St Valerie, whose martyrdom it commemorates. She was a Roman governor's daughter who converted to Christianity. She refused to marry her former fiancé after taking a vow of chastity. At her execution she miraculously caught her own severed head and presented it to St Martial (front right and lid). Her executioner was struck dead by God's avenging arrow (top left).
Curator's Description
Reliquary; champlevé enamel on copper; gilded and engraved; Martyrdom of St Valérie, patron saint of Limoges; oblong in shape, with gable top; removable front with triple lock; incidents of martyrdom seen on removable lid and on face of casket beneath, partly repetitions; on lid: proconsul Junius Silanus seated holding a sceptre; before him his servant Hortarius, executioner of the saint, struck by lightning while the saint, supported by an angel walks off with her head in her hands; beyond, still supported by angel, she kneels and offers her head to St Martial, who is dressed as a bishop and is celebrating Mass with an assistant; on casket itself the proconsul is seated with a sword-bearer behind him and is giving directions to Hortarius, who is leading the saint off to execution; final scene shows decapitation of witnessed by a crowd in a doorway, while a hand in benediction issues from a cloud over the head of the saint; on each end is an angel censing; on other half of top are four medallions containing two lions and two monstrous birds in gold on a background of light and dark blue enamel; on back of body are three medallions with similar birds on light blue ground; on the two panels of the front and ends, only the figures are enamelled, while the ground is gilded and covered with engraved scrolls; enamel colours are deep and pale blue, apple green and intense red; blue and green have shaded edges.
This object was collected by Anselm von Rothschild and bequeathed to the British Museum by Ferdinand Anselm Rothschild.
How big is it?
29.2 cm wide, 16.8 cm high, 12.3 cm deep, and it weighs 4.9 kg
Detailed Curatorial Notes
Provenance: Baron Anselm von Rothschild, Vienna, by 1866 (cat no. 1), by inheritance to his son Baron Ferdinand Rothschild (d. 1898).
Commentary: St. Valérie was the patron saint of Limoges in France. The orphaned daughter of a Roman prefect, she converted to Christianity pledging her virginity to Christ. The new prefect, Stephen, ordered Valérie's execution when she refused to marry him. On the front, Stephen raises his arm ordering Valérie's beheading. Above, the decapitated Valérie presents her head to St. Martial, the first bishop of Limoges.
From Bagnoli, Klein, Mann & Robinson 2011:-
'The scenes on the front and lid of this chasse are episodes from the martyrdom of St. Valerie, the patron saint of Limoges. When Valerie, the daughter of the Roman governor of Aquitaine, was executed, her head fell into her lap; miraculously, she presented it to St. Martial (who had previously converted her to Christianity). On the left, the proconsul Junius Silanus condemns Valerie to death as Hortarius the executioner holds the saint by the arm. Her execution takes place on the right, witnessed by a group of spectators clustered in a doorway. On the lid above, the decapitated saint walks, aided by an angel; kneeling at the altar, she offers St. Martial her head. Each of the side panels depicts a brightly enamelled angel, hovering above the ground while holding a censer. The back and corresponding roof panels show birds, lions, and human-headed beasts within medallions.
It is possible that this casket is linked with the Plantagenets, who were devotees of the saint. In 1172 Richard the Lionheart is known to have worn a ring of St. Valerie at his installation as duke of Aquitaine. The prominence of St. Valerie in the decoration suggests that the chasse might originally have contained her remains, although reliquaries with representations of St. Valerie often contained relics of other saints.'
A chasse undoubtedly made by the same Limoges workshop is in the Basilewsky Collection in the Hermitage (inv. no. Ф 175). The style and decoration of the chasse compares closely with that of another casket in the British Museum, (1859,0110.1).
Bibliography
Charles Hercules Read, 'The Waddesdon Bequest: Catalogue of the Works of Art bequeathed to the British Museum by Baron Ferdinand Rothschild, M.P., 1898', London, 1902, no. 19, figs. 5-11
O.M. Dalton, 'The Waddesdon Bequest', 2nd edn (rev), British Museum, London, 1927, no.19, pl. IV and 2 figs.
H. Tait, 'The Waddesdon Bequest', BM London 1981, pp. 13-16, fig. 5 and pls.1A-1B
Marie-Madeleine Gauthier, avec la contribution documentaire de Geneviève François, 'Emaux méridionaux : catalogue international de l'œuvre de Limoges. t. 1, L'Epoque romane', Paris : Editions du Centre national de la recherche scientifique, 1987, pp.97-98, no.91
Geneviève François, 'Valérie & Thomas Becket: de l'influence des princes Plantagenêt dans l'Oeuvre de Limoges', Limoges: Musée municipal de l'Évêché / Musée de l'Émail, 1999, p. 53, no. 11
James Robinson, 'Masterpieces of medieval art', British Museum, London, 2008, no. 97
Bagnoli, M. (ed.), 'Treasures of heaven : saints, relics, and devotion in medieval Europe', British Museum, London, 2011, no.91
Enrica Pagella & Tamara Rappé, 'L'Ermitage di Basilewsky : il collezionista di meraviglie', Turin: Palazzo Madama, 2013, p.70, no.26
Dora Thornton, 'A Rothschild Renaissance: Treasures from the Waddesdon Bequest', British Museum, London, 2015, pp.88-95.

References
Read 1902: Read, Charles Hercules, The Waddesdon Bequest. Catalogue of the Works of Art Bequeathed to the British Museum by Baron Ferdinand Rothschild, M.P., 1898, London, BMP, 1902
Dalton 1927: Dalton, Ormonde Maddock, The Waddesdon Bequest : jewels, plate, and other works of art bequeathed by Baron Ferdinand Rothschild., London, BMP, 1927
Robinson 2008: Robinson, James, Masterpieces of Medieval Art, London, BMP, 2008
Bagnoli, Klein, Mann & Robinson 2011: Bagnoli, Martina; Klein, Holger; Mann, C Griffith; Robinson, James, Treasures of Heaven, saints, relics and devotion in medieval Europe, London, BMP, 2011