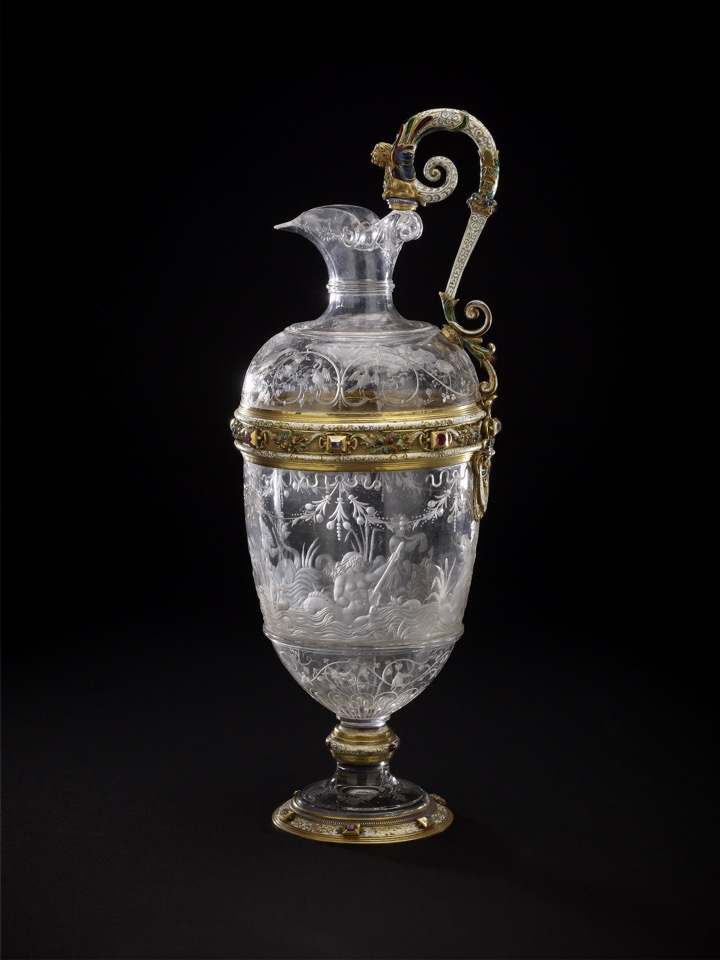 Neither the form, the engraving nor the mounts accord with Renaissance practice. No definite attribution to a particular forger can yet be made.
Curator's Description
Ewer; rock crystal; engraved designs, mounted in enamelled gold, set with jewels; mouth and shoulder in one piece, latter engraved with vine scrolls containing birds; lower part of body engraved with figure of Neptune, sea-nymphs etc., beneath festoons; broad gold band around body with rubies and diamonds alternating with groups of fruit in enamel in high relief; scroll handle with bands of scrolls in gold on white ground; at mouth a half-length lion with enamelled wings; openwork escutcheon with festoon of drapery at base of handle; short stem with mount enamelled like handle; foot with border of similar designs, with lavender edge and set with three rubies and diamonds.
This object was collected and bequeathed to the British Museum by Ferdinand Anselm Rothschild.
How big is it?
10.5 cm wide, 27.4 cm high, 10.5 cm deep, and it weighs 746g
Detailed Curatorial Notes
Text from Tait 1991a:-
Origin: Uncertain, previously described as 'German, 16th century', but more probably made in Aachen, Paris or Vienna, third quarter of 19th century.
Provenance: None is recorded.
Commentary: Neither the form of this ewer nor any aspect of its workmanship is consistent with known sixteenth-century practice. In the absence of related workshop drawings - even among the 1,079 drawings from the Aachen workshop of Reinhold Vasters (1827-1909) preserved in the Victoria and Albert Museum - no definite attribution to a particular forger can be made.
Evidence of the faking activities of Vasters in this field is particularly overwhelming and damning (see WB.77). However, the very distinctive form of handle has not yet been traced among the 1,079 drawings nor among the extant forgeries from his hand. The recumbent demi-lion with raised wings forming the upper terminal of the handle is less an Italian Renaissance, and more a French Empire, decorative motif; for example, the archives at the Sèvres Porcelain Manufactory still contain a coloured drawing for the design to be painted on a special commission from the Emperor Napoleon I, which was to be presented to Charlotte Auguste Mathilde, Queen of Württemberg, in 1806 (see Gisela Reineking von Bock, Ein Geschenk Napoleons, 'Kunst & Antiquitäten', III, 1989, pp. 58-60). Furthermore, the style and quality of the enamelled goldsmiths' work, which is different from most of Vasters' known work at Aachen, may have been produced in Paris or Vienna. Indeed, there is one drawing preserved among the many volumes of drawings from the Viennese firm of J. and J. Lobmeyr preserved in the library of the Österreichisches Museum für angewandte Kunst in Vienna, which depicts a tall vase with elaborately engraved festoons and pseudo-Renaissance scrolls and ornately modelled mounts and handles (see Y. Hackenbroch, Reinhold Vasters, Goldsmith, 'The Metropolitan Museum Journal', vol. 19/20, New York, 1986, p. 234, fig. 151). Although none of the details is identical, there is a very close similarity between the mounts - not only on the foot, where a demi-griffin is combined with a spiralling scroll-bracket, but also around the body beneath the rounded shoulder section and in the chamfered and foliate details of the handles. This very large, coloured drawing is signed by H. Herdtle and dated 1877 - a time when this ewer might indeed have been made.
An examination of the engraved figures, especially of the faces of Neptune and of the mermaid, reveals the academic, lifeless approach of this craftsman - even the form of the trident held in Neptune's left hand is wholly uncharacteristic of the Renaissance. Such engraving differs from that found on most of Vasters' fakes, such as the 'heron' standing-cup (WB.77, also part of the Waddesdon Bequest) and another grandiose, and now documented, Vasters creation - the Schroder Collection covered bowl engraved with Daphne and Apollo and, on the reverse, Cyparissus and the stag (see T. B. Schroder, 'The Art of the European Goldsmith: Silver from the Schroder Collection', exh. cat., New York, 1983, p. 179, no. 77, col. pl. and 4 (details) figs). However, the use of engraved festoons of fruit and a liking for birds as a decorative feature can be seen in Vaster's 'Cristalchampagnerglas' drawings (E. 2688-1919; E. 3441-1919) and on his finished version - the Lord Lee of Fareham rock-crystal cup in the British Museum (reg. no. 1953,0201.4; see H. Tait, in 'Fake? The Art of Deception', ed. Mark Jones, exh. cat., British Museum, 1990, pp. 200-2, no. 211, col. pl. and fig.). Furthermore, these repetitive motifs are combined with similar watery scenes of marine figures on a rock-crystal covered goblet (in the Blumenthal Gift, Metropolitan Museum of Art, inv. no. 41.100.316), which can be attributed to Vasters' workshop because his drawing for the enamelled gold mount on the cover has survived (Victoria and Albert Museum; E. 3322-1919; see Hackenbroch 1986, p. 229, figs 140-2).
The identity of the rock-crystal engravers who contributed to Vasters' fakes remains a mystery, but this ewer in the Waddesdon Bequest is the work of one of the least gifted - and may not have been a member of his team, despite the evidence of the Vasters drawing of an engraved rock-crystal nef on wheels.
Bibliography
Hercules Read, 'The Waddesdon Bequest: Catalogue of the Works of Art bequeathed to the British Museum by Baron Ferdinand Rothschild, M.P., 1898', London, 1902, no. 75, pl. XVI
O.M. Dalton, 'The Waddesdon Bequest', 2nd edn (rev), British Museum, London, 1927, no. 75
Hugh Tait, 'Catalogue of the Waddesdon Bequest in the British Museum. III. The Curiosities', British Museum, London, 1991, no.42, figs. 358-364.

References
Read 1902: Read, Charles Hercules, The Waddesdon Bequest. Catalogue of the Works of Art Bequeathed to the British Museum by Baron Ferdinand Rothschild, M.P., 1898, London, BMP, 1902
Dalton 1927: Dalton, Ormonde Maddock, The Waddesdon Bequest : jewels, plate, and other works of art bequeathed by Baron Ferdinand Rothschild., London, BMP, 1927
Tait 1991a: Tait, Hugh, Catalogue of the Waddesdon Bequest in the British Museum; III The 'Curiosities', London, BMP, 1991