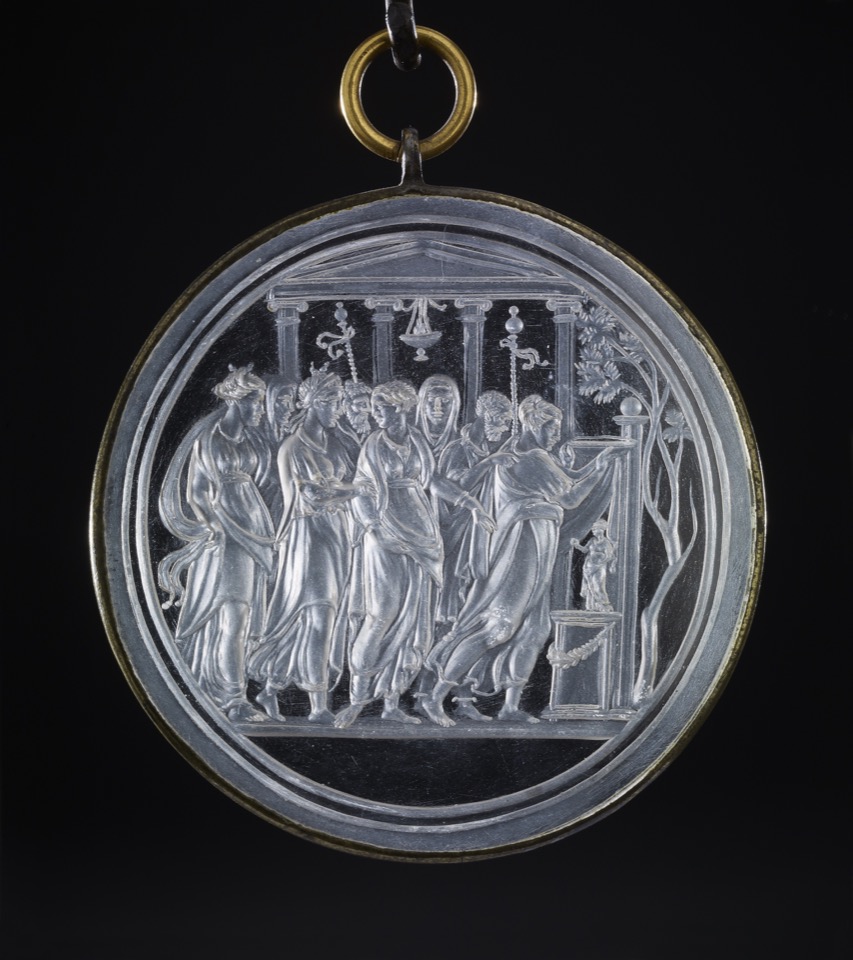 A Renaissance depiction of an ancient Roman sacrifice. It is engraved on the back of the rock crystal, to be seen to maximum effect from the front. Belli was a celebrated goldsmith and gem engraver with a cool elegant style based on classical models. In 1563 the architect Giovan Battista Bertani wrote that casts from Belli's engraved gems 'are sold in all the public places of Italy'.
Curator's Description
Circular plaque; rock crystal; engraved in intaglio with sacrifice by eight people, six women and two men, before a façade with four Ionic columns; tree behind altar.
This object was collected by Anselm von Rothschild and bequeathed to the British Museum by Ferdinand Anselm Rothschild.
How big is it?
11.8 cm wide, 12.3 cm high, 4.5 cm deep, and it weighs 29.7g
Detailed Curatorial Notes
Text from Tait 1991:-
Origin: Italian, c. 1490-1546; attributed to Valerio Belli (born 1468, died 1546) of Vicenza, who was also active in Rome and Venice.
Provenance: Provenance: Baron Anselm von Rothschild, Vienna, between 1866 and 1872 (cat no. 571), by inheritance to his son Baron Ferdinand Rothschild (d. 1898). However, a tiny element of doubt must exist because of a discrepancy in the published measurements: in Schestag 1872, the brief description (under no. 571) corresponds in all but one respect, namely the diameter, which is given as 2 ¾ in - not as 1 ¾ in. Nevertheless, until another example is found with that larger diameter and with a history traceable to Baron Anselm's collection, it may be assumed that Schestag allowed this mistake to go unchecked when the second part of the Catalogue was being printed in 1872. The entry reads: "571. Platte von Bergkrystall, rund, mit einer heidnischen Opferscene. Vertieft gravirt. Durchmesser 2 ¾ in."
Commentary: Neither in Schestag 1872 nor in Read 1902 was a precise attribution attempted, but in Dalton 1915 and again in Dalton 1927 this intaglio gem was not only described as "Italian, 16th century" but was also said to be "in the style of Valerio Belli". Two years later, in Kris 1929, this intaglio was published as the work of Valerio Belli and discussed in relation to the several extant variants of this particular theme by this artist.
Valerio Belli (1468-1546), often called 'il Vicentino' from his close association with Vicenza, was a goldsmith, a medallist and a maker of plaquettes as well as being a prolific engraver, chiefly on rock-crystal. Later in the sixteenth century Giorgio Vasari (see Vasari-Milanesi, V, pp. 379ff.) writes glowingly of his outstanding brilliance and his prodigious output. His two principal patrons were Giulio de' Medici, who reigned as Pope Clement VII from 1523 to 1534, and his successor, Pope Paul III (reigned 1534-49), whose reputation for princely patronage had already been established in Rome while he was Cardinal Alessandro Farnese. Vasari's account refers to some of Valerio Belli's more important works, and fortunately both the Vatican and the Medici collections in Florence still possess a few of the best-documented masterpieces, including the large enamelled silver-gilt casket of 1532, which is set with twenty-four of his most celebrated rock-crystal intaglios of the Passion of Christ and is now preserved in the Museo degli Argenti, Palazzo Pitti, Florence (see Kirsten Aschengreen Piacenti, 'Il Museo degli Argenti', Milan, 1967, no. 78). Shortly after completion, this famous casket was given by Clement VII to the French King, Francois I, on the occasion of the marriage of the King's second son (the future Henri II) to the Pope's niece, Catherine de' Medici. The casket had, according to Vasari, earned Valerio Belli 2,000 gold ducats and certainly it remained a most treasured possession of the French Court until it was returned to Italy as part of the dowry of Christine of Lorraine, who had married Ferdinand I de' Medici (reigned 1587-1609); it was recorded in the Medici inventories of 1635.
Valerio Belli's many intaglio gems, both large and small, were in great demand with collectors in Italy and indeed many other parts of Europe, and Vasari even records that "the shops of the goldsmiths or rather the whole world may be seen to be full of impressions taken in gesso, sulphur, or other compositions from the intagli in which he [Valerio Belli] made scenes, figures and heads". Evidently the scarcity of original rock-crystal and other gem-stone intagli from the hand of Valerio Belli, despite his reputation for tireless industry, led to a large trade in different types of impressions taken from his works. Indeed, there exists today a number of extant metal plaquettes exactly repeating the designs and compositions that had first been delicately executed by Valerio Belli as intagli on rock-crystal plaques and other gemstones. Bronze plaquettes, cast from moulds, had the advantage that they were very durable, easily transported and could be produced in considerable numbers. They were an ideal way for the designs of Valerio Belli's intagli to be disseminated among collectors and other artists, especially north of the Alps where the thirst for Italian Renaissance styles, especially in the decorative arts, seemed limitless.
Not surprisingly, therefore, the Berlin Museum's large collection of plaquettes by (or after) Valerio Belli contained a lead relief of a Roman sacrifice (see E. F. Bange (ed.), 'Die italienischen Bronzen der Renaissance und des Barock, II: Reliefs und Plaketten', Berlin Staatliche Museen, 1922, p. 113, no. 845); it corresponds in a number of significant stylistic and compositional aspects with the design of the intaglio in the Waddesdon Bequest, and, as was pointed out both in Bange 1922 and in Kris 1929, it is after an original gemstone intaglio preserved in the Hermitage, Leningrad (see Kris 1929, p. 164, no. 205).
Another variant of this Valerio Belli Roman sacrifice was painted in reverse by an almost contemporary enameller in France, 'the Master KIP'. The Limoges painted enamel plaque (4.5 x 5.1 cm) - together with two other plaques, similarly painted with a processional frieze of figures 'in the antique manner' - was included in a London public exhibition in 1897 (see 'Catalogue of the Burlington Fine Arts Club Exhibition of European Enamels', London, 1897, pl. LIX). In 1910 it formed part of the George Salting Bequest to the Victoria and Albert Museum (inv. no. c.2426-1910) and was illustrated both in the Catalogue of the Bequest and in a seminal article by H. P. Mitchell entitled: Who was the Limoges enameller "KIP"? (in 'Burlington Magazine', XIV, 1908, pp. 278-90, pl. II, 7). The exceptional delicacy of the grisaille painted figures seems to echo that quality which had been regarded by Vasari as a particular attribute of Valerio Belli's intaglio work on rock-crystal and other gemstones. Apparently the Limoges enameller was able in this case to retain the essential character of the original - perhaps because he had direct access to the intaglio itself.
The same qualities and characteristics can be studied in a signed rock-crystal intaglio, 'Sacrifice to Hygeia', which entered the British Museum in 1866 (see Dalton 1915, no. 833, pl. XXX; H. of rock-crystal oval, excluding frame, 3.7 cm). Valerio Belli's signature, VA. F, is prominently placed in the exergue beneath the subtle rendering of the antique scene. Formerly in the Strozzi and Blacas Collections, this intaglio was reproduced in 1707 by P. A. Maffei (in 'Gemme antiche figurate, date in luce da Domenico de' Rossi colle sponizioni di P.A.M.', Rome, VI, no. 99) and a paste from this gem survived in the Münzkabinett at Munich (A. Furtwängler, 'Die Antiken Gemmen', Leipzig, 1900, III, pl. lxvii, fig. 23). The technical features of the intaglio cutting on the Sacrifice to Hygeia rock-crystal are remarkably similar to those on the Waddesdon Bequest roundel, and both can be compared on stylistic grounds with the greatly admired Florence oval chalcedony intaglio of an 'Antique Marriage' (Kris 1929, no. 204). They represent Valerio Belli's skill on this miniature scale at its best, and in Vasari's opinion Valerio Belli and his contemporaries produced intagli that "surpassed the ancients in delicacy and design".
Bibliography
Franz Schestag, 'katalog der Kuntsammlung des Freiherrn Anselm von Rothschild in Wein', zweiter theil, Vienna, 1872, no. 571 (but only if the incorrect measurement is an error in the printing - see Provenance for full discussion)
Charles Hercules Read, 'The Waddesdon Bequest: Catalogue of the Works of Art bequeathed to the British Museum by Baron Ferdinand Rothschild, M.P., 1898', London, 1902, no. 86
O.M. Dalton, 'Catalogue of the Engraved Gems of the Post-Classical Periods in the British Museum', London, 1915, no. 832, pl. XXX
O.M. Dalton, 'The Waddesdon Bequest', 2nd edn (rev), British Museum, London, 1927, no. 86
E. Kris, 'Meister und Meisterwerke de Steinschneidekunst in der Italienischen Renaissance', Vienna, 1929, (reprinted 1979), p. 56, no. 205.

Additionally, Dora Thornton. `Valerio Belli and after:Renaissance Gems in the British Museum', Jewellery Studies 8, 1998, pp.11-20, p.13, fig.2, doubts that this gem is by Belli, but Burns, Collareta and Gasparotto, eds., Valerio Belli, Vicenza 2000, p.318 and cat.15 insist that it is by him. They admit that it is not of the quality of the Hygeia gem in the BM. There was a very similar (now lost) rock crystal intaglio in the Galleria Colonna in Rome, engraved in 1791 in Raspe-Tassie's catalogue, which looks much finer and was also unsigned.

For the Belli casket in Museo degli Argenti see also Mosco and Casazza, Museo degli Argenti 2004, p. 66.

References
Read 1902: Read, Charles Hercules, The Waddesdon Bequest. Catalogue of the Works of Art Bequeathed to the British Museum by Baron Ferdinand Rothschild, M.P., 1898, London, BMP, 1902
Dalton 1915: Dalton, Ormonde Maddock, Catalogue of the Engraved Gems of the Post-Classical Periods in the Department of British and Mediaeval Antiquities and Ethnography in the British Museum., London, BMP, 1915
Dalton 1927: Dalton, Ormonde Maddock, The Waddesdon Bequest : jewels, plate, and other works of art bequeathed by Baron Ferdinand Rothschild., London, BMP, 1927
Tait 1991a: Tait, Hugh, Catalogue of the Waddesdon Bequest in the British Museum; III The 'Curiosities', London, BMP, 1991